Our vehicles Page 5
GAZ 67 Jeep
Tony bought a Gaz 67 for a winter project. The photos show the Gaz as he bought it, and the state it was in after stripping down to the bare essentials. There is also a photo to compare the Russian Gaz against a US Jeep. The Gaz is a 1949 model as far as it can be worked out.
Harley-Davidson WLA
Geoff had wanted a Harley for years and at last the dream came true. Here are some photos of the bike, with a 750cc engine, hand gear change and foot clutch to name a few oddities about the bike.
Dodge WC52
Adding to the collection of vehicles that Geoff was building was a Dodge WC52. This had been seen in the hands of some of our group's other members over the years. It was in a little need of a repaint, so Geoff set to and rubbed down and repainted it. Here are some photos of it during its restoration and some once completed. There is also a group photo of some of the Dodges in our group.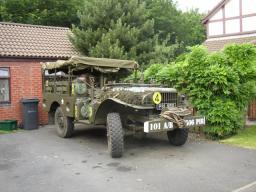 Dodge WC62 1.5 ton 6x6
Geoff has swapped his 4x4 Dodge WC52 for this Dodge WC62. The swap was done with Gary Hayes from the North West Military Collectors Group who put on battle re-enactments. The WC52 can still be seen taking part in those battles. The WC62 is a larger version of the WC52 but using the same cab and engine that enabled Dodge to increase the carrying capacity of the vehicle. It has a longer rear load area supported by the twin axle layout to distribute the weight.
Austin K3 GSV
The Home Guard in Ingleton have a new form of transport. No longer will Mr Jones Butcher's van have to be forced into action as this sparkling Austin K3 van has been purchased by John Ward. This is the General Service Van (GSV) that if my research is correct had a 6 cylinder engine just short of 3.5 litres, and a four speed gearbox. John tells me Bob, Sandra and REO Dave helped him get it home. What did you do, carry it?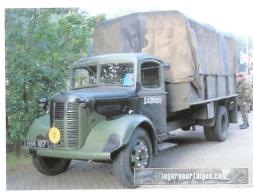 GPW Jeep
John Calvert, who joined the group in October 2014, brings his GPW Jeep to the fold. It is a 1942 model.