Our vehicles Page 4
GAZ Amphibious Jeep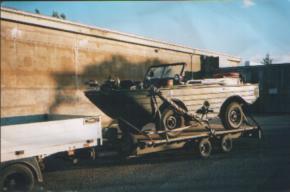 The first picture of this new purchase for Lewis Evans. Lewis has been working on this Russian version of the amphibious Jeep, made by GAZ, and has almost completed the restoration of it.
Update 3/2/05 Most of the restoration is complete and the vehicle has tried its water wings in the water at Glasson Dock. It is seen in the last shot accompanied by the smaller Luaz.
Dodge WC54 Ambulance
A second Dodge ambulance has joined our ranks with this recently purchased example. Philip Russell tells me it is in good condition, is driveable, and just needs some basic tidying up. Some attention has been paid to the paintwork revealing some markings under the top coat. If anyone can recognise the markings, get in touch with me and I will pass the details to Philip. We suspect they may be Norwegian, but are happy to be corrected.
Dodge WC51 Weapons carrier
Yet another Dodge, but this time a WC51 brought from Tromsoe in Norway by Rupert Fox. It was made in 1944, and imported by Rupert in October 2004. Work has been carried out on it and its first outing is expected to be our crank up meeting at the end of March 2005. The second picture shows the Dodge with a 1939 Rover P2 owned by Rupert's father.
Jeep - Willys MB
Martin Russell's MB is not only for display. It is used as it was designed to be used, in the mud. It had been used on a school kids activity day, off-roading......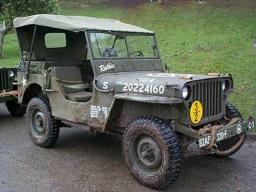 Jeep - Ford GPW
.......while brother Phil's GPW is used for the Christmas tree run. A good set of thermal underwear is needed for these vehicles in the middle of winter.
Bedford Water Bowser
Dave Forshaw spent some time restoring this unusual example of a Bedford Water Bowser. In one of these photos, the water tank can just be seen, but in the others it cannot as it is covered by canvas, partly to disguise what it was, and partly to keep the sun off the vehicle. As you can see, the Bedford is painted in sand colour for desert operation where a water bowser would soon get very hot. The canvas helps keep the unit cool.