Our vehicles page 1
(Click on photo for larger image)
An early gathering at Hornby Castle to discuss plans for the 2004 VE Day celebrations.
Hotchkiss
Steve's Hotchkiss complete with missile launcher. This is a French built Jeep made under licence. They were built with 24volt electrics as opposed to the standard Jeep's 6 volt mainly to deal with the wider variety of tasks that they would be put to involving use of electrical power.
Ford GPW Jeep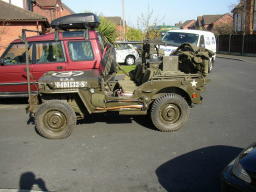 (Click on photo for larger image)
A Ford GPW Jeep from 1943 fitted with a Willy engine and a usual 3 speed gearbox with high and low ratio selector. This still retains the original 6 volt electrics; many are converted to 12 volt for ease of replacing bulbs and of starting. There is no syncromesh on first gear so care is needed in setting off. The Jeep is also fitted with a radio and power pack, which although they were working when bought, ceased to make any sound other that a slight crackle once fitted. Any ideas welcome. A wire cutter has been fitted to the front of the Jeep.
Dodge WC54 Ambulance
This photo was one of a set that persuaded the current owner to travel all the way to the Isle of Wight to buy it. It is a four wheel drive ambulance fitted with a 6 cylinder side valve engine common to many other vehicle built on the Dodge chassis. It has a four speed gearbox with a low and high ratio, though first gear in normal ratio is so low that setting off is usually carried out in second. The ambulance body can carry four stretchers, two on the floor and two hung from metal hooks on the side of the vehicle and web straps from the roof. There is not much room in the back with all four stretchers in position so I would guess a medic would have difficulty in tending the wounded. Maybe they were only used as a means of transporting the wounded unlike a modern day ambulance where full resuscitation can be carried out.
GMC Deuce and a half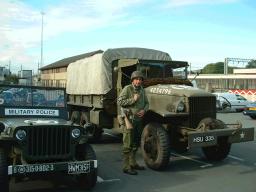 This vehicle was on display for many years at Farmer Parr's Animal Farm . The Farm has a large barn converted to show the history of the Fylde area of the North west of England. (see www.farmerparrs.com) The GMC was on long term loan from a local vehicle collector/restorer who deserves a web site of his own for his collection. He decided to sell, and the thought was the vehicle would need very little doing to it. However on driving it home to Lancaster, Barry soon discovered this was not quite the case and had to rely on the handbrake to stop the truck. Many weeks later and a rebuilt servo, the brakes are now in a safe working order.
Jeep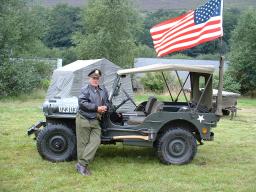 1942 Jeep rebuilt with a new tub. This has been converted to run on Dual Fuel with the LPG tank situated where the back seat should be. No real loss in performance has been noticed, but the £ certainly travels further. Other modifications are the addition of an ammo box between the two front seats. So what you may ask, but inside is a cassette player and a stock of Big Band cassettes. Dave shall have music wherever he goes (to misquote the nursery rhyme).
Ferret Mk 1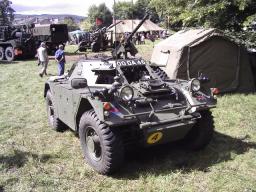 1950 (More to follow)