Members and their Vehicles Pt 2
Martin Hayhurst and M38A1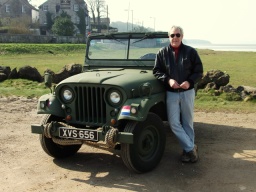 Martin Hayhurst has acquired an M38A1. Here is his story. "After looking for a vehicle for some time, last November Jonny Newbould told me about a good NEKAF M38A1 which was for sale in Great Eccleston, near Blackpool. The owner had marked it up as a U.S. Army vehicle, but it is obviously a Dutch one, made by Nederlandse Kaiser-Frazer in 1956. Any eagle-eyed expert would spot that it has the side indicator repeaters and white reflectors on the front wings which were only fitted to the NEKAFs in order to conform to Dutch road regulations. The dashboard data plates are also in Dutch, so I have returned it to its original nationality with appropriate markings and flags. The vehicle is in excellent overall condition, and needs very little mechanical work doing, other than the normal maintenance jobs. It runs very well with the original 'Hurricane' F-head engine, and is currently shod with road tyres. The vehicle has been well looked after, and it came with a good hood and virtually new sidescreens and doors. Having had a Champ, a Gaz 69M, and a Lightweight Land Rover, I am delighted to be back on the road in a military vehicle once again!
Even my daughter loves the jeep, so much so that she wants me to drive her to her wedding in it at Leighton Hall in September. Will this be the first time a NEKAF M38A1 will have been used as a bride's wedding car? I hope it doesn't rain!!"
Darren Swann and Bedford MJ
Darren recently acquired this nice example of a Bedford MJ. Dating back to 1993 (I'm sure I saw a B plate on it) before the military number was stuck over the top. Darren clearly likes Bedfords as he had a QL before this.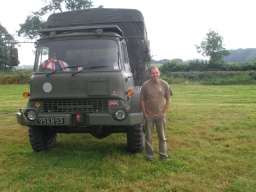 Pat Scott and 1960 Hotchkiss M201
Pat has sent this picture of himself and his recently acquired Hotchkiss from 1960.