Members and their Vehicles
George Langford And Dakota
OK, so no-one else has sent in photos of them and their vehicles so to kick it off here is George Langford and his Dakota. I know it's not his, but it looks good, and will make a great story to tell in the clubhouse. Thanks Photoshop.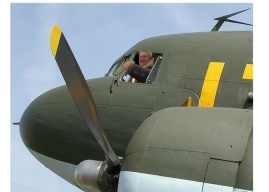 Ian Coats and B17
Continuing the aircraft theme Ian was spotted in the pilot's seat of a B17. He really was in the seat though he does deny owning it.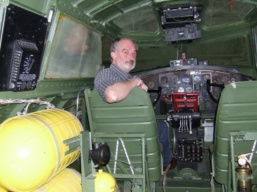 Mixed Spitfire photos
Jonathan, Boyan, and Stuart were all photographed suitably clothed in a Spitfire.
Ian Coats and Jeep
At last a true picture of proud military vehicle ownership from Ian Coats. This is his Jeep which is a ...... I'm sure he'll confess all in due course. And not to be outdone, Ian's aircraft photo of ATA pilot 1st Class Kathryn Coats delivering yet another Spitfire.
Steve Flitcroft and M38A1
Steve has owned this M38A1 for some time but has only recently resprayed it in sand. It was previously NATO green.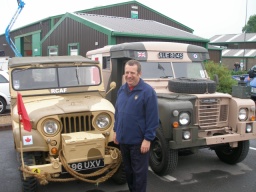 Simon Gregg and Chevrolet C15
Having moved from a British Land Rover and wearing British Army kit to an American Dodge Weapons carrier and wearing US army kit, he has now reverted back to British with this Chevrolet C15. Built in 1942 it is now fitted with a Bedford engine and slightly larger wheels to give it better performance on modern roads.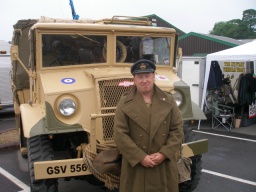 Simon Gregg & Steve Flitcroft and Land Rover Ambulance
Steve and Simon jointly own and have restored this Land Rover ambulance. Originally painted green it is now sand camouflage matching the two individually owned vehicles.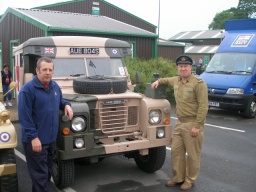 Martin Russell and Jeep
Martin has owned this Willys MB since 2002. It is from 1942 and badged as 9th USAAF, 435 Troop Carrier group, 75 Squadron, which was based at RAF Welford park near Newbury. For the full story visit Martin's Willys webpage at http://freespace.virgin.net/martin.russell/willys.htm.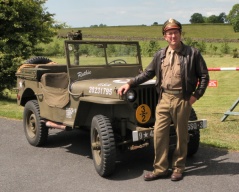 John Ward and Austin
This Austin K3 dates from 1943. John acquired it in 2008 and has seen the engine rebuilt this year with the addition of new pistons and a skimming of the head. John provided the following description. "Well a bit of detective work on my part and I found out that the truck was in fact a West Yorkshire regiment truck. I have found out its original number plate which was a Wakefield number. The Wagon was decommissioned out of the Army at York Barracks in 1947. A farmer bought it and it was put into use as a cattle wagon. Many years later it was rescued in a dilapidated state from a field near York by a guy who turned it back to its original military use. It was lucky really as there were two men after it and the other man was going to turn it into a civilian commercial vehicle . Any way the military vehicle enthusiast bought the truck which I am glad. I am also re-badging the truck as the 1/6 Duke of Wellington Regt 147th Brigade 49th Division " The Polar Bears". It is ironic really as the Ingleton Home Guard were affiliated to this regiment, and the truck was originally the same, so it is going back to its original regiment."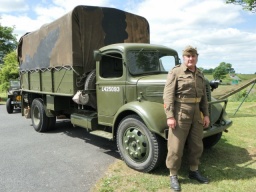 Paul Lomax and Jeep
Paul's photo is shown here with his Jeep that dates from 1945. He has spent 4 years restoring it with the help of many MVT members, too many to name.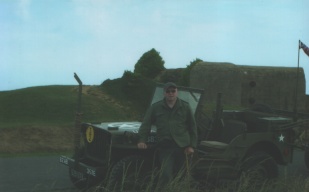 Tim Hardy and Jeep
Tim has had this Jeep a few years now and it has done many miles especially as he is one of our most remote members.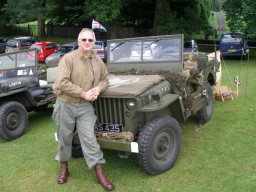 Phil Shatwell and Land Rover Lightweight
Phil has just completing the major parts of the restoration (2010) including a respray. He has managed to trace photos of the Land Rover so is trying to match the markings. Phil tells me some items still need attention, namely the doors that are slowly rotting from the inside out.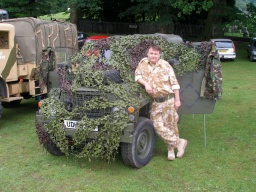 Norman Callaghan and dream Abbot
Norman Callaghan, our resident photographer, poses against an Abbot self-propelled gun. While it is not his, it is good to see Norman on the other side of the camera, a bit like myself. You can always dream, can't you.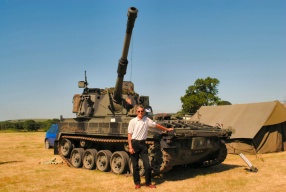 Phil Russell and Jeep
Manufactured in USA Wednesday 14th January 1942. One of a total of 647,925 Jeeps that were built, specifically of which 361,339 were the MB version. This vehicle was acquired in 2008 from a previous owner of 14 years in Formby. Now mechanically and cosmetically overhauled. The exact history of this Jeep is unknown before that time.
This vehicle is currently marked up with the insignia of the 56th (Kings Own Royal Lancaster) Anti–Tank Regiment Royal Artillery (TA). This particular vehicle would have seen service as a RHQ vehicle used by the general Staff (A3). The Shield emblem on the right rear bumper is that of the 14th Army which served in Burma and India from 1943 to 1945 who were also known as the "forgotten army". The emblem on the left rear bumper is that of the Indian 5th division .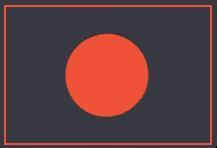 The Regiments History Created out of the 4th Territorial Battalion of the Kings own Royal Regiment, Lancaster in 1938. After Annual Camp in 1938 the 4th Battalion King's Own Royal Regiment, Lancaster was converted into the 56th Anti-Tank Regiment (King's Own) Royal Artillery. In September 1939 the unit was mobilised as part of the 42nd (East Lancashire) Division (TA) - which joined the British Expeditionary Force (BEF) in France in April 1940. The 56th provided the defence on a section of the Dunkirk perimeter before being evacuated. Following its return to the UK the 56th lost men and batteries to form other units. 223 Battery became 1st Air-Landing Anti-Tank Battery in November 1941. They became the first Royal Artillery unit to fly into battle - on board gliders - serving with 1st Airborne Division in Sicily in 1942 and later at Arnhem in September 1944. The 56th itself went out to India in 1941 as part of the Indian 5th division, fighting in India and Burma from October 1943 until the end of the war.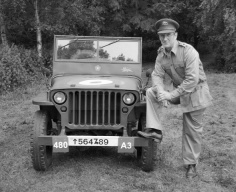 John Le Page and Plymouth P10
John has arranged for a Plymouth P10 to be shipped over from the States. Here is his story so far.
"The Jeep Is gone - welcome the Plymouth!
It is a 1940 Plymouth P10 De Luxe Road King 4 door Sedan. I first found it on the web back in the spring of 2011 but couldn't do anything until I'd sold the Jeep. That went through in November and I then took several very deep breaths and embarked on what could have been a nightmare of admin and forms. Tim Holland recommended the chap he'd used to import his truck last year. I cannot praise this guy highly enough, his name is Steve Murphy and he runs a company called 'Desert Classics'. He handled all the organization in the States, the actual sale of the car, the collection and transport to the docks and the shipping firm and location of a suitable container. The shipping firm were excellent and handled all the admin this side, dealing with HMC&R to import the car. They could not have been more helpful.
So it was with some anticipation and not a little excitement on the part of the driver, that three of us set off on Valentine's Day to collect the car from Chatham Docks.
Now here's a shocker - never let it be said that Jonny Newbould doesn't keep time. He was due at my house at 2.30am (yes that IS A.M.!!) and he rocked up at 2.20am. We drove to Louis Evans' house and set off with his trailer. We hit the M6 at 3.00am and arrived in Chatham at 9.30am, having stopped for brews and breakfast on the way.
Collection was simple. I reported to the portacabin office, presented the paperwork and was directed to the warehouse which was a real Alladdin's cave with loads of tasty cars waiting for collection. Louis was soooooo excited he almost ran in there and saw the car before me!!
One of the guys there pulled it out for us as it wasn't running at that point. Step up Jonny with extra battery and go faster spray. Within a few minutes it was fired up and driven onto the trailer. Once secured we set off back and were on the road by 10.15. We got back to Warton by about 5.00pm.
When I set out on this project it was a bit of a leap of faith. I'd only seen the photos of the car and never ever dealt with car buying abroad but I can say that anyone considering doing it should just go for it! Yes, there are pitfalls and I guess for every story like mine there are probably loads that were nightmares. If you are prepared to use a reliable shipper and accept that large amounts of money have to transfer the pond before you actually see anything, it actually works! The bonus is that vehicles seem to be much cheaper like for like over there. Just as a guide, a car like mine in Belgium was twice the price and in a sorry state.
My grateful thanks go to Louis and Jonny for their part in bringing my adventure to completion. We had a great day out and I now have a new project which I hope will be an interesting addition to the Area's vehicle collection. Look at the grin on Louis's face in the picture."
When I asked what was military about this story and why it should be on our website, here is the response "Dozy b----r me - It's going to be a staff car - they took them straight from the production line and sprayed them green - then put them into the pool. That's what I'm going to do." Well that's that sorted, so here is the story on the website.
16th August 2012 update from John Le Page - The car is now restored in full Staff car livery. The new 12v loom is installed, as is the refurbished clutch and handbrake. All the lights and everything on the dashboard have been re-connected as per the 12v conversion. It sailed through the MOT and I got it registered the same day without any problems. I drove it back from Johnny's yesterday and it went really well although I'll have to get used to peering along such a big bonnet! Now the fun begins as I carry on finding the odd cosmetic bits and pieces which have just expired through age! Longer term work depends on how it performs for the next 2 or 3 hundred miles. Just have to see .........
23rd August 2013 Update. The engine is broken! Miles per gallon is down to about 15, but that is the oil, not petrol. Something is amiss so out came the engine at Inskip Motors, in the fairly good time of 4.5 hours including removing the front body work. The engine now awaits stripping down to find out what is wrong. The shell of the car is now back in John Le Page's garage until about December, when hopefully surgery will have been completed.