Chevrolet Wrecker Rebuild page 1
Pictures of the full restoration of the Chevrolet Wrecker are not available but pictures of an engine replacement may be of interest. The normal engine was replaced with a GMC 270 cu in engine that as you can see had a little work done on it as can be seen by the before and after images. The after image shows the engine running in a test harness before being installed in the vehicle. The engine is comparatively easy to reinstall in the Chevrolet as the whole front of the vehicle detaches allowing the engine to slide in. While the front of the vehicle was removed, some re-wiring was undertaken.
Problems were found with the heater exchange unit. When it was opened up a hitchhiker was found, though how long it had been there is anyone's guess.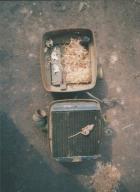 The finished article is shown in a few pictures below.
This truck featured in the June 2003 edition of Heritage Commercials, issue 162 (see www.heritagecommercials.com) along with Jeff Hankin's Scammell Explorer. In the article Jon describes how the vehicle was originally obtained from a local bus company who used it as a recovery vehicle for their buses, sold and re-bought prior to the latest restoration.
It should be noted that despite its age, this vehicle still earns its keep in Jon's engineering business.