Events (2018) pt 1
New year road run and meal
Our New Year meal this year was again at the Derby Arms at Treales. It was good last yeas so we had to use it again. Before taking part in the eating a few of us met at the Kirklands and Catterall Memorial Hall to go on a short road run to build up our appetites. A mixture of Jeeps, Land Rovers, Command Cars, and MUTTs set off and duly arrived at the venue. The meal was superb, as usual. Thanks go to Liz for organising the meal.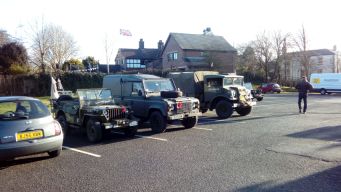 Royal British Legion Meal
We were invited to an evening with the RBL as thanks for helping to raise money for the charity during Poppy week in November 2017. A small contingent from our group attended and were made most welcome..
Coquet Rally
Ian McCormack has sent a report on the Coquet rally. ""On the weekend before Easter, Jon and Susie Newbould, along with Ian McCormack, put Jon's jeep on a trailer and took the long road up to Rothbury in the beautiful Northumbrian countryside to take part in the annual Coquet Safari where they were joined by Simon Bromley and Tony Haworth. For those who don't know, this is a gathering of light military vehicles organised by Northumbria Tyne Tees MVT Area and involves two days of driving out and about through the Northumbrian hills, often on forest tracks and across Otterburn Army Training Estate (with permission of course!).
The awful weather over the Winter (and Spring) months left the ground too wet for much off-roading but that didn't stop everyone having a great time. As luck would have it the sun shone continuously throughout the weekend although it wasn't noticeably warm. However, a few drinks and good food at the Queens Head in Rothbury soon got the circulation flowing again.
The higher ground in the area still had snow drifts leading to some impromptu snowball fights with Ian, Jon and Susie being cruelly ambushed. Otterburn is an important training area for the army and on this weekend was being used by a TA Regiment for live artillery firing. From a safe distance the convoy was fortunate enough to watch a live fire exercise with 105 mm field guns. Even at a mile or two distance the concussion of the blasts could clearly be felt.
Due to the increasingly onerous task of organising everything with ever growing bureaucratic requirements, the future of the event is in the balance. However, thanks and appreciation must go to Denny Thompson and Duncan Glen for all their hard work in arranging everything and for inviting Jon. Susie, Ian, Simon and Tony to participate in this very special gathering."