Events (2017) pt 1
New year road run and meal
Our New Year meal this year was at the Derby Arms at Treales. Before taking part in the eating a few stalwarts met in the rain and mist at the Kirklands and Catterall Memorial Hall to go on a short road run to build up our appetites. A mixture of Jeeps, Land Rovers, Command Cars, and MUTTs set off and duly arrived at the venue. The meal was superb, and the annual Piston Broke award went to Graham Prentis for filling his Jeep with Diesel instead of Petrol.
Poppy Appeal meal with the RBL
Great night at the Poppy appeal with the guys from South Cumbria North Lancs MVT with the 3 Daves, Patrick, Angela, Judy, Ian, Esther, and Birthday boy Ken. The group were presented with the Jack Mullaniff Cup for services to the Poppy Appeal.
Heaton's Bridge Crank up
The crank up of the Heaton's Bridge Military Vehicle Group took place at at Heaton's Bridge near Ormskirk and was started in the wet and rain and ended in the wet and mud, but with some sunshine inbetween. The event was well attended despite the weather which caused a decision to be taken not to allow further vehicles onto the field if they were only day visitors. The road run on Saturday was hailed as a success, as were Angie's spam fritters and peas, though I missed them this year for some reason...must be old age. Karaoke in the pub at night was a challenge with the dulcet tones of our resident Frenchman Patrick adding to the sounds. Leaving the field on Sunday required a lot of help from the serious heavyweights as most vehicles, including Jeeps and Land Rovers were getting bogged down in the mud. By all accounts, though it was a good weekend.
Coquet Rally
Ian McCormack and Jon Newbould went to the NE to attend an event there. Here is Ian's report.
Over the weekend of 8th and 9th April, Jon Newbould and Ian McCormack made the trek up to Rothbury in Northumbria to take part in the Coquet Safari, the event taking its name from the River Coquet (pronounced Co-Ket) around which the event is centred. Held annually and organised by the Northumbria Tyne Tees Military Vehicle Trust, this is a two day event for Jeeps, Champs, Land Rovers and other light military vehicles involving long drives out through the stunning Northumbrian countryside with much of the motoring being off road. The driving force behind it all is local man Denny Thompson, a long standing military vehicle owner with a particular liking for AEC Matadors. Together with his son-in-law, Duncan Glen, they do the hard work of liaising with local land owners, Forestry Commission and Ministry of Defence to obtain all the necessary permissions for a bunch of vehicle owners to drive across their land – routes which are usually strictly off-limits to vehicles.
The constraints of lambing, grouse shooting, ground nesting birds, military and forestry operations (to name a few) leave a very narrow window for the event to take place but it usually happens a week or two either side of the beginning of April. This time of year in Northumbria can experience wildly different weather (often in the same day) ranging from deep snow to bright sunshine. Remarkably, this year's run took place under clear blue skies with some warmth in the air so arctic clothing wasn't a requirement. "It's not always like this!" was probably the most used phrase of the weekend.
On the long but interesting drive up to Rothbury via Hartside Top and Alston, a final petrol stop was made in Hexham to get the jeep and jerrycans filled up. Thirty odd miles still to go to Rothbury with another hundred miles or so around the countryside and this was the last place that petrol was available so not to be missed. Arrival at Rothbury led to a meet up in the Queens Head Hotel which became mission HQ for the weekend where a few well-earned beers were consumed and acquaintances made or renewed. Some familiar faces were there including, eventually, Simon Bromley from this area whose M38 A1 packed up on the way whereupon he got a lift from a passing Kubelwagen – as you do.
Next morning, the start point of a local riverside car park brought together all 20 participants where Tony Haworth joined us to ride along with Matteo Iannizzotto in his very smart Gaz 69 (complete with Soviet flag). After drivers' briefing and reiteration of convoy rules, a gentle start took the cavalcade up through forest tracks onto open hillside with spectacular views across the Coquet valley then the trail led into a steep rocky descent before the road was regained. Permission had been granted (and paid for!) to use roads across the Army's Otterburn training area which is littered with dead tanks and shell holes – fortunately the roads are OK. Dire warnings were issued not to pick up any ordnance lying about – "It may explode and kill you and the paperwork will be horrendous" – but all bodies and limbs were accounted for so either everyone paid heed or no one found anything.
Lunch at a remote Army rest area was the prelude to a drive across a trackless expanse of moorland before picking up metalled roads again. Fuel starvation problems were seeing jeeps dropping like flies and, in the act of rescuing one such casualty, Ian's jeep spluttered to a halt. As is often the way, it was a new part (a flexible fuel pipe) that was the culprit. Being umpteen miles from the nearest garage (or nearest anything in fact) didn't deter Jon who set about fashioning a field repair from a plug lead end-cap and some insulation tape. Back on the road again, the next challenge was Windy Gyle – 2,031 feet up where it is crossed by the England - Scotland border. Discretion being the better part of valour, Ian and Jon left the jeep at the bottom and hopped aboard Tom Cummings' Champ for the ascent.
As the vehicles climbed the hill so the casualties mounted until the track was littered with jeeps with their bonnets up and much dark muttering about fuel quality. Tom's Champ was soon called into action as the aforementioned Kubelwagen belonging to Matthew Hallett from Shropshire was stranded across a ditch. Soon pulled out with no harm done, he proceeded to back up, "To get a run at it" and launched forward with vigour and enthusiasm until gravity and a lack of grip on the dry grass thwarted his best efforts and defeat was accepted. It's not every day you see a Kubel with all four wheels in the air striving for the summit! Bravo Sir!
Jon and Ian gained a new respect for the Champ's off road ability as it ground remorselessly on to the border fence where a small number of jeeps were already waiting. Just time for a quick cross border raid and a photo opportunity then it was onwards and downwards back to the road for a run back into Rothbury and the completion of day one. Sparing a few minutes for Jon to do a permanent repair on Ian's fuel pipe it was back to it in the Queen's where more beer was drunk and the day's events were re-lived.
Sunday dawned even sunnier and warmer and once again vehicles assembled for a briefing before setting off past Cragside estate and, via more magnificent scenery, out into the Northumbrian countryside. With many people needing to travel a long way home, the day's adventures were of necessity shorter but still exhilarating, taking in some of the best landscape the British Isles has to offer.
This area has a long association with military training, including plenty of Roman remains, and on the hillsides above Rothbury are a series of First World War practice trenches. This particular Sunday was the 100th anniversary of the Battle of Arras and amongst the units involved in that battle were soldiers of the Northumberland Fusiliers – the regiment who dug the practice trenches and a moment was taken to think of those who never returned to these wild moors and hidden valleys.
Stopping for lunch somewhere in the wilds for lunch gave Denny the opportunity to wind up the event and for everyone to thank him for arranging another successful weekend. The trip back to town was (relatively) uneventful with just a rocky hill climb leading to spectacular views, a (minor) jeep on jeep RTA, avoidance of death-wish cyclists and a leisurely drive back into Rothbury.
A final get together back at the car park where it all started then it was the long road home to Lancashire and the end of a truly memorable weekend. Special thanks are due to Denny and Duncan for the invitation to attend and for making it all happen and also to the guys on bikes keeping it all moving. See you next year!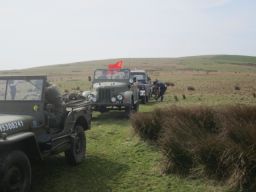 Derby Arms Crank Up
The SCNL Area crank up moved to the Derby Arms at Treales near Kirkham having been offered space for tents and parking, and the temptation for some wonderful food and drink. How could we resist. A few camper vans and a small number of tents soon made the place look untidy but we like to call it home. The weather was kind to us so we had a drive out on the Saturday and and ended up at Light Ash Farm Elswick for lunch. What portions! Full to busting we meandered back to the Derby Arms where in the evening we had yet more food, though I have no idea how we managed it. A small group went for a further run into Lytham to view the Spitfire memorial looking over Fairhaven Lake.
Sunday brought more of the same with a leisurely rise from our beds then on another shorter ride out ending up again at the Light Ash Farm. Yet more massive portions. A number of the group stayed until Monday before decamping. Thanks to the Landlord of the Derby Arms for alllowing us to use their facilities.
Brougham Hall
No words but plenty of photos. I could not attend this event so I have to rely on others for the photos all courtesy of Dropbox.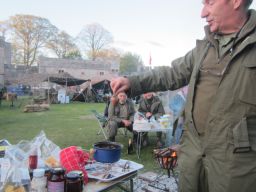 Chipping Steam Fair
Good weather stayed with us during most of the Chipping Steam Fair. Some rain fell but not enough to cause problems. Perhaps it was because two of our members had taken over the organisation of the Military Section of the show, Jim Ashcroft and Ken Marle. There was a very good turn out even though some heavier armoured vehicles didn't arrive. If they had there would be very little room for them. The event was spread over three days taking in the Bank Holiday Monday with displays of military vehicles, classic cars trucks and motorcycles, and of course a selection of steam powered vehicles.
The steam fair is more of a social event as we cannot leave to field, so the only thing to do is eat, drink and talk. Small gatherings of friends sampled different cheeses, wines and whiskies while putting the world to rights. The arena was used quite extensively to put on shows from the various vehicle groups unhindered by any rain.
A selection of photos are shown below taken by myself and other members who place them into our Dropbox.
Download Video: Closed Format: "MP4"
Download Video: Closed Format: "MP4"
Download Video: Closed Format: "MP4"
Download Video: Closed Format: "MP4"