Events (2016) pt 2
Chipping Steam Fair
Chipping Steam Fair was a well attended event as far as the Military Vehicle group were concerned. A collection of vehicles, including a Stuart tank, from Terry Till's warehouse set off a corner of the field. A collection of Jeeps, Land Rovers, and Chevrolets made up most of our groups attendees, with a few other assorted gems such as an RB44 from other exhibitors. A Centurion tank stood guard by the main entrance from the car park. The event went very well apart from a certain Land Rover that decided to blow its Fuel Lift Pump and had to be receovered back to its home base. Ok Ok...it was mine. The weather was good as was the beer in the marquee. A few shots follow to show what was there.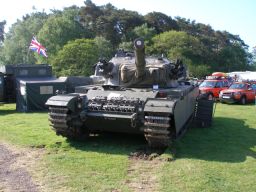 Myerscough College Open Day
Ian McCormack has provided this report from the College.
Myerscough College held their annual and ever growing Open Day and Country Fair on Sunday 12th June and once again South Cumbria and North Lancs MVT were invited to take part.
Eight members took up the invitation this year and parked up in the, by now usual, location tucked in under the trees around a fishing lake. Andy Green, Lol Richardson, Derek Bobb (in Keith Ball's MB), Patrick Gibaud, Phil Russell, Ian Coats and Ian McCormack all brought Jeeps with Paul Harrison representing the 'Dark Side' in a Land Rover 110 (he was wearing a Jeep T-shirt though!).
Fine weather greeted the early crowds but, alas, early afternoon rain set in and put a dampener on the day.
However, the wide range of attractions on display kept the crowds entertained despite the best efforts of the weather.
From SCNL's perspective, Lol Richardson's display of weaponry, explosives and assorted militaria once again drew much interest and comment (as did the 'well used' coffee cups hanging from Patrick's Jeep. Have they EVER been washed?).
Another successful Open Day for the College and thanks to the organisers for the invitation to attend once again"
Lancaster Armed Forces Day
Tony Martin has received the following message regarding the Lancaster Armed Forces day event tha some of our group attended. "On behalf of Lancaster Military Heritage Group may I thank those members who attended at Lancaster Castle or Morecambe Prom. Your vehicles and equipment added much interest and helped to make both days a success. Of particular note was the `wedding display` and other items from the 40`s which attracted a great deal of favourable comment. Although of secondary importance we were able to make over £3500 to be shared between our nominated charities Combat Stress and SSAFA . Your presence helped enormously with this achievement. John Lean, Chairman."
Woodhall Spa
Setting off at 0615 on the Friday to enjoy our first 1940s event at Woodhall Spa, we had a good run until we arrived at Halifax where we had to queue for half a mile but after that we had a great run down to just south of Huddersfield where I missed the sign for Rotherham and we were on the road to Wakefield. We made our first stop at McDonald's using our free tea tickets. When I asked a guy if we had missed the turning he put us on the road for the M1 saying it was down to 50MPH so we felt safe with the traffic at that speed. We stayed on to Junction 31 to the A57 which took us over to the A1 just south of Worksop then onto Woodhall Spa, unfortunately mine is a old map. We were supposed to take the first exit at the second roundabout but they had built a flyover so we missed it but a slight detour had us on our way. Arriving at our check-in point at Jubilee Park we were met by a very nice man who took us to our pitch which was under the trees across the road from the toilets and heated outdoor pool, BLISS. The tent was pitched in record time then a trip round all the stalls which took a couple of hours, I went off to the café on site which did a cup of tea and a bacon barm for £2-50. We had a ride into the Village with 40s music going on in the pubs and clubs, the shops all with a 40s theme in their windows.
We were on our way to Horncastle for our evening meal, two courses for under a tenner at the Thai restaurant. Saturday was lovely and sunny when we awoke and another hot day was to follow. We walked into the town where Station road and Broadway were closed to normal traffic from 9-30am till 5-00pm but wartime vehicles where able to use the road. The Spitfire put on a good display over the town, and also over Jubilee Park. The atmosphere around the town was electric. We made our way back to the tent to change for the night time activities and a walk back to the town.
The entertainment at the Lancaster Hotel was second to none though some of the guys had tickets to a dance at the Golf hotel, a great day. Sunday we took the Jeep into town and parked up next to Bob and Pauline from up Newcastle. I first met them at my first Pickering event over sixteen years ago. They were two of the Hornby Castle re-enactors. We walked up to the Golf Hotel and had Tea & Scones on the lawn with singers on the stage all day, again no charge to watch. Then a stroll back to the Jeep to listen to the Bradford George Fornby appreciation society. OK if you like GF. To make up for GF the Lancaster made several passes over the event (It's stationed just down the road) It was worth the travel just to see the Lanc'. We had booked seats for the Kinema in the woods to watch Absolutely Fabulous at 8-00pm so not wanting to be late we arrived at 7-30. There were about ten people in a very nice little cinema. I didn't rate the film nor did Judy. After the film we went into the town and it was like a ghost town every one had gone home. Great event but would we do it again? Certainly but will have a week down there so much to see.
A good run home via Mansfield, Chesterfield, Chapel en le Frith, Stockport, and Manchester. Please checkout the Woodhall Spa website for the 1940's event and their Face Book page.
Yorkshire Wartime Experience
Now in its fifth year, a few of us, myself, Dave & Judy Salisbury, Ian McCormack, and Jonathan & Boyan Holmes camped in a mixture of tents and a motorhome, but all with a military vehicle to show. We were but small fry amongst some of the grand machines present. A celebration of the 75th anniversary of Diamond T trucks was marked by a large colleciton of these vehicles in various forms. Tanks were all over the place with a T34 from Russia, a Cromwell, a Comet and a Valentine from the UK, and Stuart, Sherman and other assorted US hardware. On the "other" side a number of what I understand are very good replica German tanks including a Panzer III and a Stug III.
Fields were separated into Wartime with the mix of UK and US vehicles, with German vehicles in their own area. Post War vehicles including Chieftan tank, many Land Rovers of different varieties, a few Austin Champs, and other assorted RB44 Bedford and Leyland trucks.
This really is a massive show that deserves our support to keep it going in the North of England. To show you what you missed, I've added more photos than I would normally.
Download Video: Closed Format: "MP4"
Download Video: Closed Format: "MP4"
Download Video: Closed Format: "MP4"
Pately Bridge
Dave and Jude went for a day trip to Pately Bridge to their forties event. Dave thinks it could turn into a big show with plenty of room for camping and only a short walk into the town at night. Singers were on during the day, and at night in the pubs. Sounds like it could be worth a visit next year.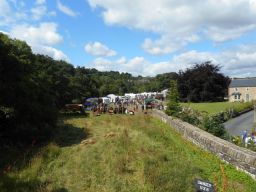 Peak Rail
Dave & Jude, Ian & Esther, and Ken went to Peak Rail, an event that Dave described as very pleasant. Looking at the photos it does look to be in a good location. Plenty of relaxation and gourmet cooking were the orders of the day.