Events (2014) pt 3
Grassington
Ian Coats has provided the following report and photographs fromt eh Grassington Event. "The sleepy Yorkshire Dales village of Grassington in Wharfedale was taken over by a substantial invasion of military personnel from the NWWII Association, the MVT ( Inskip Militia Irregulars ), and various others. The village was transformed with road-blocks, sandbags, blast taped windows, and folk in period costume. The good people of Grassington did a superb job of getting the look just right as well as making everyone feel very welcome, it was a delight to have dog-friendly pubs and restaurants.
The military camp was in and around the carpark near the centre of the village, here the British, Russians, Americans, and Germans had their respective camps and displays. There were battles and weapons demos, these didn't seem to faze the nearby sheep at all although the Russian gas-operated Maxim gun had a few visitors looking very apprehensive. We set up our camp alongside Fox Commando from NWWII Association so the Royal Navy was well represented. The weather was lovely on both days especially on Sunday. The MVT had seven Jeeps and Keith Ball's Hillman, some parked within the camp and some in the streets.
In the carpark were several stalls which did a roaring trade, I found a large wartime sized beret and a nice pair of braces and Kathryn found some choice items, these included a walking stick with a deer hoof handle for me!
Sunday dawned fair and around noon there was a long parade through the village with a service in the little square. Mr Robert Burns aka Winston Churchill entertained us with his uncanny recreation of the Great Man's speeches.
This was my first visit to this event and we shall certainly be returning next year."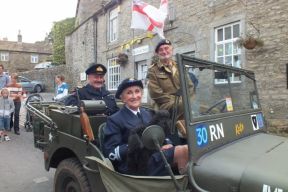 Heaton's Bridge, Ormskirk
Our group have a regular event down in Ormskirk at Heaton's Bridge where they join with elements of the West Lancs Area. I've pinched some pictures and descriptions from the Facebook pages of Dave Salisbury and James Ashcroft, so thanks for allowing me to do that. The event was hailed a success with a session off road and great meals and company. James said "A great weekend at Heaton's Bridge great road run good food and company. Two cracking nights in Kenny's Night Club I don't think I have stopped laughing yet hope we have as good a do at Ye Horns." Frank Brown had the following to say on Paul Connolly's page, a sentiment I guess is echoed by everyone who went "I'm sure we could not have wished for a better weekend. Good pub, good food, good weather (didn't really need the cover) and good company, and as far as I know no breakdowns though that never spoils anything. Great job done organizing it. Cheers Paul."
Pickering North Yorkshire Railway Event
Dave Salisbury attended the North Yorkshire Railway event in Pickering with his wife Judy. He had a very enjoyable time there and has allowed me to copy some of his photos from his Facebook page for you all to have a look at. Judy was pleased to meet Churchill, he's certainly looking good after all these years. The journey on the train took them to Goathland, one of the stations on the North Yorkshire Moors Railway (that is Goathland looking down on the platform).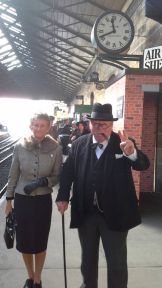 Ye Horns Inn Wind Down
Our 2014 season ended with a Wind Down meeting at the Ye Horns Inn at Goosnargh. The event was attended by a small number of the group, with apologies from others who could not attend due to other commitments. A run out on Saturday saw a mix of GPW, M38A1 and Mutt Jeeps go from Goosnargh through the Trough of Bowland to Hawes and back, stopping for tea and cakes of course (see Ian's report later on). Jim Ashcroft commented " Just got home from Ye Horns Inn Goosnargh after another great weekend of good food beer and fabulous company. We were all very pleased with the opening of "Kenny's" Night Club (dress code applies) where the proprietor treated the customers to Jack Daniels, cheese and biscuits. We are all looking forward to our next visit to the club and Kenny is hoping to add a few refinements to the décor and complete the interviews for a couple of Bunny Girls." It should be good next year. Thanks to Dean Sawyer, Jim Ashcroft and Dave Salisbury for the photos. As might be expected, Jonny got his hands dirty part way round the run though I don't think it was anything serious. Dean captured a very good shot of Boyan and Jonathan's Jeep silhouetted against a threatening cloudy sky.
Ian McCormack sent in an additional report on the event. "Saturday's road run was a response to a challenge that Jon Newbould and I had set ourselves at the Beer Festival weekend to do a 100 mile drive up into the Yorkshire Dales and North Lancashire – none of your wimpy 70/80 milers for us! A suitably fine(ish) day and the mission was on. Not wishing for us to be sent out alone, we were joined by a number of hardy souls and gathered a complement of Jonathan and Boyan, Graham, Jon, Mark and me in Jeeps and Andy in his M38A1. A short stop in Chipping allowed Keith to catch up in his his MUTT with Dale and Dean on board and off we went into the Wild Grey Yonder.
Coffee was taken at Slaidburn which enabled Jon and Graham to replace Jonathan's disintegrated fan belt (hence the photo) and 20 minutes later we headed out towards Tosside and Settle. Bright sunshine in Settle gave way to deep black clouds but we kept the roofs off and the clouds skulked away, beaten. On we struck through Horton-in-Ribblesdale, past the mighty Ribblehead viaduct, which took us to Hawes for a well earned hearty repast at the fine chippy therein. Fortified we tackled the Coal Road, a single track steep climb up to 1,700 feet which tested everyone's engines and 1st gears, and thence via a string of hairpin bends to Dent. A livener at the Sun Inn (for the non drivers) sent us onwards via another steep climb towards Barbon and, skirting Kirby Lonsdale, we aimed towards High Bentham and the hill road to Slaidburn.
Of note along this byway is the Great Stone of Fourstones, a huge boulder dropped by the Devil on his way to make Devil's Bridge (or possible a glacial erratic). Chasing the last of the light we wended our way back through Dunsop Bridge and Chipping to base camp at the Horns Inn. Consultation with our official route verification officer (Jon) revealed a round trip of 112 miles. Mission accomplished and time for a pint!"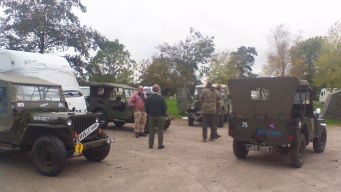 RBL Poppy Collection
The grand sum of £4,521.27 was collected by the members of our group at the Forton Services this year compared to £3,500 last year. Well done to all those who took part. Those featured below, whose names I know, are Dave Salisbury, John Le Page, Barry Marshall, Graham Prentis, Dave Forshaw and Jack.
Xmas meal - Ye Horns Inn
Unusually we actually held a Christmas meal and run out at Christmas time, on the 27th December, rather than wait until the New Year. We went to the Ye Horns Inn at Goosnargh. The southern contingent met at the Kirkland and Catteral Village Hall and went for a run towards the snow on the Trough of Bowland. We found it. A rather dicy descent from up on high had those with bar grip tyres wishing they had something with more grip. We met some from the north of the area at the Ye Horns Inn for a meal that included a choice of pheasant, lamb or turkey to name a few. It was a very enjoyable meal, all served hot with plenty of vegetables to choose from.
Thanks to Liz Russell for organising the meal that was enjoyed by all who came, but I think we all decided we had better return to a New Year run and meal for the future as we only had roughly half the normal number of attendees.