Events (2013) pt 2
Myerscough College Open Day
Myerscough College held their annual Open Day and Country Fair on Sunday 9th June and South Cumbria & North Lancs MVT once again took part. Located in a superb woodland setting next to a lake were six vehicles from the group – Lawrence Richardson, Ken Marle, Jim Ashcroft, Martin Russell and Ian McC with Jeeps and Keith Ball with his MUTT and trailer. Parked at the College centre and fundraising for Combat Stress was Tony Martin with his Spartan CVR (T) while Phil Connolly and team flew in with Huey 509 (appropriately landing on the Golf Course for those who've read Chickenhawk).
Record crowds of over 16,000 took advantage of the glorious sunshine and we were kept busy all day talking to the visitors, answering questions and displaying equipment. Of course weapons and (dummy) explosive charges were of great interest providing many a photo opportunity.
Apart from the military related displays there was plenty for all the family to enjoy from motorsport and horse riding to country skills and landscaped gardens as well as demonstrations of the many courses on offer at Myerscough.
Next year's show is on Sunday 8 June 2014 which will clash with the Normandy commemorations which many of the group are attending. However, for those not going to France next year the Open Day can be recommended as a great day out which is a bit different from wholly military shows.
Weeton Camp presentation
Back in April we visited the Army camp at Weeton, near Blackpool, to hold a camp and to join the families who remained as their partners headed off to Afghanistan. Jim Ashcroft set up a display of his artwork and gave a demonstration of panel painting to the youngsters there. It was decided that he would produce a plaque for the Weeton Barracks Welfare Centre, called The Lions Den. On July the 24th a number of us from the SC&NL Area went to the Barracks to present the plaque that Jim had painted.
A barbeque had been prepared for the Welfare Centre by the Barrack's catering corp, so it seemed a good idea to combine the presentation with the barbeque. Jim Ashcroft, Ken Marle, Ian & Esther Wray, Boyan Holmes & Ali, Steve Flitcroft, Dave Forshaw, Paul Higgins, and Stuart Reid & son turned up along with an assortment of Jeeps to represent the MVT at the event. The Jeeps were put on display much to the delight of the kids on the Barracks, but not so to those to whom the Jeep is a prize possession. I think they all survived unscathed.
The sun shone, the beer would have flowed nicely but for the fact most of us were driving. The presentation of the plaque was made to the commander of the camp, who was dressed in a rather fetching Fijian sulu, or skirt. The company was excellent and the barbeque expansive, with plenty to choose from including burgers, chicken, steak and sausages together with a selection of salad items. The BFBS (British Forces Broadcasting Service) turned up with their camouflaged ice cream van that gave out free ice creams to anyone who asked. They also brought a reporter who interviewed Boyan and Jim to find out what they were doing there. The programme was broadcast on BFBS on Sunday the 28th July.
Relations between the MVT and Weeton were helped by this and we would be welcomed back at almost any time. All we need now is a date.
Sunday Horns Run
Norman sent in the following report just to make us jealous in this glorious July weather. "We had a run out to the Horns Inn today, looks like a good place for our Bank Holiday weekend.
We then carried on to do a bit of a road run through Longridge, Chipping, then through the Trough of Bowland to the Inn at Whitewell. Turning left at the Inn to go up to Bolton by Bowland for a smashing meal at the Copy Nook Hotel. After a small Timothy Taylors, we then headed up Holdens Lane towards Bentham, passing through Bridge House Wood and crossing the Stocks Reservoir. We continued up School Lane through Gisburn Forest, till we reached the summit with breath taking views of Pendle and Ingleborough. We came back down the other side of the valley into Slaidburn then a sharp turn right down to Newton-in-Bowland, following the B6478 to Dunsop Bridge and the village hall for a pot of tea for 5 and a comfort stop. Having quenched our thirst etc we headed for Garstang with George and Dave leading the way followed by Barry and Norman and Solly Tailend Charlie. Passing through Scorton then onto the A6 for a run back to Preston small detour down Station lane to miss the build up of traffic at Broughton.
Time for run, we left Preston at 1030 hrs and returned back at 1530 hrs.
Lytham Wartime weekend
The event is growing year on year, though it has to be said that this year Saturday was a bit of a washout. The rain came and didn't give up. This did not stop the SC&NL group from displaying their vehicles, however, to the people willing to brave the weather. Nor did it stop the battle from taking place. There are pictures on Facebook of rain coming down like stair rods yet they carried on. Martin Russell reported being killed, having to lie on his back with rain running down his nose but he could not move until the battle was over; he nearly choked himself. Sunday however was totally different; it was dry and resonably clear. The crowds were certainly larger than on Saturday, and according to early reports, larger than last year.
Dave Forshaw and Heather Bailey gave their Standard an airing having recently finished some major refurbishment. It went on the road run around Lytham perfectly, and I should know as Dave generously allowed me to join them. The displays allowed both wartime and post war vehicles to attend which meant there was more to see and friends didn't have to be split between events. A wise decision. A Dakota from the Battle of Britain Memorial Flight flew over, and I managed to take a reasonable though not brillaint shot of it (distance and movement didn't help). There were two static Aero engines on display that both fired up to give a very noisy display. There were also two fullsize Spitfire models, one of which was the model used to promote the Lytham Spitfire monument. Both are now fitted with seating allowing pictures to be taken actually sat in the cockpit.
Initial impressions are that the event was a roaring success and next year's event is already being publicised. Ian reports that the Council were happy with the event that attracted around 25,000 visitors per day, the local traders and catering establishments were ecstatic with many running out of food. The locals were pleased that there was no trouble, that the Green was still intact and that all the litter was cleared away as the displays left. Well done to Ian Coats and Kev Robertson for representing the MVT at the committee meetings and ensuring all period vehicles could be represented. Thanks also to those that turned up in vehilces to make the show.
Ye Horns Inn gathering
Having been for a weekend ride out a few weeks ago from Ye Horn's Inn (http://www.yehornsinn.co.uk/), the main event was held to coincide with the Beer Festival organised by the Goosnargh Brewing Company, based at the Inn. The camping was available from the Thursday through to the Bank Holiday Monday. Amazingly a number of folks stayed the full time; it must have been the selection of beers, 30 of them.
Food at Ye Horn's Inn was available from the main restaurant, praised by Jonny Newbold and Ian Coats, or snacks available within the beer tent (chips, beef barm, chilli, etc)
A road run was arranged for both Saturday and Sunday, with Sunday's being the longest I must have been on in my time in the MVT, about 80 miles. This took us over Beacon Fell, into Bleasdale, Gisburn Forest, and over the fells into Yorkshire. At no time must we have driven on a road over about 12 feet wide, or so it seemed. We stopped at the Crook Inn at Bolton By Bowland (http://www.copynook.co.uk/) for a fine lunch at a reasonable price. It is well worth a visit, providing you can find it. Then more food and drink on the way home at the Dunsop Bridge Community Centre. Four Jeeps and a Light Weight LandRover took part, and all made it back without assistance.
Graham showed off his latest Moto Guzzi acquisition. It is a 500 cc model Nuovo Falcone Militare. If you follow it, you won't do that again. Its single silencer is not up to the job and deafens any following drivers so Graham is going to return it to its original condition with a twin exhaust, unusual for a single cylinder model.
The location seemed to get the seal of approval with rain on Friday draining away quickly, good food and good drink available. I suspect we will be returning. Thanks to Jim Ashcroft and Ken Marle for arranging the event.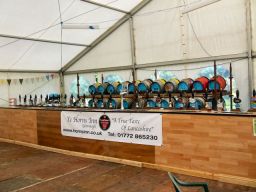 Cliviger Festival
Graham and Christine White joined the Parish of Cliviger in arranging a weekend festival in aid of the Parish funds. The MVT group was invited so on the Saturday 6 Jeeps and Graham's Moto Guzzi turned up to give the locals something of a military nature to look at. A run on the Saturday took us out on a 45 minute run around the countryside near Burnley, taking in Towneley Hall for a photo shoot. The weather was bright so we had a plenty of opportunities for good shots. Following the run, on our return to the event field the official opening was carried out by a local farmer who remembers the wartime events in the village and was happy to tell us about them. Ian Coats arrived later on with his Russian Sidecar outfit, and to join the evening entertainment. I am assured the evening was very enjoyable with the local pub putting on some excellent entertainment.
Sunday was a bit of a washout and the stalls had to retire to the village hall. There was very little vehicle activity. However two new potential stars were discovered in the form of Lucy Lancaster and Mustang Sally who were trained in the art of singing in the 40s style by Graham White. Their previous experience was in the church choir, but apparently did so well they may be seen at future events. Thanks must go to Graham and Christine for organising the MVT elements of the weekend. The total raised for the Parish was just short of £1000 but when some necessary expenses had been taken away, £850 was left for the funds.