Events (2012) pt 3
Ingleton Home Front
Liz Russell has provided the following report and photographs of the Ingleton Home Front event, run by John and Elaine Ward with help from the Ingleton Home Guard.
"Not many of us there from SCNL's MVT group, me & Han, Boyan & Jon, Martin, Tony & Brenda Lee, Graham P, Tony, Dave McCoull, Ken & Jim, Ian & Esther, Stuart & Sue on Sat, the Dave S joined us on Sunday. The weather was better than forecast although caravans couldn't get on the field so they parked behind the Marton Arms! We managed a bbq in front of Jon & Boyan's caravan on Saturday night. I think the dance was well attended & people said the new band were good. A fly past by the Spitfire from the BBMF took place on Saturday afternoon. Again the weather was ok on Sunday luckily for the parade by the vehicles that happened smoothly, although I chose to sit outside a cafe & watch. Dancing & the battle reenactment in the village square on Sat & Sun was good. Dancing in the marquee on Friday night was to the sound of 'Major Swing'. A lot was going on in the village & nice weather brought the general public & re-enactors out for the day. There was slight drizzle as I was taking my tent down on Sunday afternoon but it did pass over."
Additionally, Phil Russell and Sharon were on hand from the start of the weekend to help John Ward set up the stalls, and there at the end to take them down again. Another successful weekend, and long may they continue.
Croft Nostalgia Weekend
Liz Russell has provided the following report form the Croft Nostalgia Weekend held at the Croft Racing circuit in Yorkshire. "This event, in its third year, boasts 400 classic cars on display, vintage buses, motorcycles, vintage aircraft & of course military vehicles supported by the Durham Tees Valley MVT. Having been last year to this weekend & really enjoying the variety of vehicles there & things to do, I was looking forward to going again. Boyan, Alex & I decided to venture up the A66 in our jeeps on Friday afternoon closely followed by Simon in his Chevy & Martin in his Mustang. Steve was already setting up the shop when we arrived so after a bit of manoeuvering of my tent, then the arrival of Jonathan, William, Phil and Sharon we settled down to what turned out to be a very warm, sunny weekend. Those who have been to Croft will know that the military vehicles are always exhibited opposite a vast array of historic racing cars whose owners decide for some reason they need revving up early in a morning !! So that was our start to Saturday. There is a great programme of events going on with racing all day from formula 3, Formula Ford, road sports & touring cars of which I know very little about but they are great to watch! Whilst Simon & Steve looked after the MVT shop the rest of us did our own thing, looking round stalls, watching the Griffin engine starting up, watching the racing, listening to the George Formby Impersonator or sat in Boyan & Jonathan's caravan watching the Olympics! The Battle of Britain Memorial flight display Spitfire that flew over in the afternoon took us all by surprise because it flew quite low and it gave a great display with a few acrobatics. Late afternoon saw us sat outside the shop enjoying a few beers & a jug of Pimms watching the thunderstorm happening around us! There was a dance in the evening but when it started to rain we all made a hasty retreat back to the caravan & spent the rest of the night Olympic watching again!!
One of the highlights of this weekend for me was getting to go around the race track in my jeep in the military parade on Sunday, Boyan & Jonathan I'm sure will agree, although we could have done with going a bit faster! There were also parades for classic cars (Martin) & trips around the circuit on a vintage bus. The historic racing continued on Sunday & we had another fantastic air display from a jet Provost & an Isaac Fury. We enjoyed Sunday morning sat in the sun, people watching or walking about, then storm clouds started to gather & we decided to set off back home, by now in the pouring rain across the A66 until we reached Brough where the sun came out, & apart from when my jeep slipped out of gear going down the hill from Kirkby Stephen & I had to stop! ( so did everyone else) the rest of our intrepid journey back was perfect."
Liz has also provided the following photographs though quite why I'm including a Ford Mustang, I'm not sure. A North American P51 Mustang, maybe, but not a Ford. Now if the Fords were merged, GPW body and Mustang engine, that would be something. Martin Russell pointed out that the Mustang is his, the result of another hobby of his. Apparently the boot is not large enough so the Jeep will be going next year. Martin also provided some of the pictures shown below.
Heaton's Bridge Weekend
Mark Lancaster has sent the following report from our second venture to Heaton's Bridge. This event was organised by Mark in a very short time when another event was cancelled. All credit to Mark for doing this and I'm sure the people who turned up appreciated the effort. "The Second Invasion of Heaton's Bridge started at 10:30 hours when Kevin Reilly started to move his vehicles into position, he brought his Abbott SPG, FV432 tracked vehicles, Mighty Antar & Diamond T prime movers, his new Baby Diamond T and Landrover LWB - so off to a good start. Throughout the day which stayed sunny, vehicles trickled into the camp and the field started to fill up nicely, with a good mix of W.W.2 and post war vehicles including various Landrovers, Champs, Ferret, Dodges, Jeeps etc etc. Saturday started out nice and sunny, more vehicles turning up bringing the total to 36 vehicles on site (41 in total over the weekend) there were plenty of public around and we had a lot of really positive comments from them over the weekend. At 12:00 hours we gathered 11 vehicles and went on a reccy of the local country roads - there was no enemy to be found so we stopped for an ice cream!! After we filled up with the cold stuff, we headed for the Pippin Lane W.W.2 Hangars where we had been given the kind permission to take some photos of the vehicles in front of and inside them by their present owners Thomas Guy Haulage. This was facilitated on the day by guys from the Merseyside Transport Trust who used to keep their vintage buses in there until recently, thanks go to both of them for making this happen. We then headed back to base, reccy over we settled in for some good food and real ales in the pub except for myself and Mr Newbould who took the opportunity of driving the full length of the runway were Jonny found a large bank of compacted stone. He tried to resist driving up it for all of about 5 seconds (Suzy got out shaking her head at her hair brained Husband!). Jonny even managed to persuade me to let him take Babs over, but not with me driving I might add - although he did try!!
Sunday was a bit mixed with some rain in the morning and stayed quite gloomy until later in the afternoon, this did not stop the public coming in and a few more vehicles turning up. Just after lunch we had some ENSA entertainment when Laurel and Hardy from Lookalikes Magic turned up to thrill us with their close up magic and humour as they mingled throughout the camp - thanks gents, you definitely improved the morale of the troops!! As there was no sign of any enemy action in the local area we started to disperse around 15:30 hours and were all off site by 18:00 hours. I must say a big thank you again to everyone who attended the event and made it as successful as it was!, also to Steve and his staff at Heaton's Bridge for making us so welcome and looking after us - we will be back next year so watch this space!"
Mark provided the following photos to show the variety of vehicles attending and the show Jonny doing his stuff.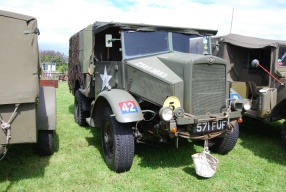 Tesco Blackpool
A number of our group based themselves at the Tesco Superstore in Blackpool at the request of Tesco themselves to raise money for charity. Steve Flitcroft, our secretary, has written his first report to be published on these hallowed webpages. Here it is.
"On Saturday 11th August, Norman Callaghan, Simon Johnson and Steve Flitcroft took their vehicles to TESCO at Clifton Park, Blackpool. There, assisted by Tony Martin, they spent 6 hours collecting for BLESMA and Combat Stress. They were helped in this by a donation of Chocolates from Tesco which were distributed during the day. Our thanks go to Lynn Sumner, Tesco Community Champion who helped arrange the event and kept us supplied with coffee. At the end of the day it was found that £728.58 had been raised.
The pictures show the 3 vehicles at the front of the store and Lynn taking a rare view of the store grounds and customers."
It's worth adding here that Simon Gregg and Steve Flitcroft have also taken the BLESMA boxes to The MVT National Show and Croft with the MVT Shop. This together with Ian Coats, Ian and Estelle and Steve's efforts with their vehicles at the Armed Forces Day at Blackpool also raised another £83.31.
Let me add well done to all involved (Paul H - webmaster)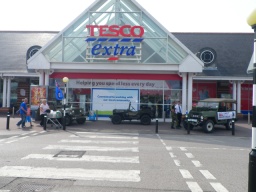 Hand & Dagger
Rain threatened to make our return to the Hand and Dagger a bit of a damp squib, but we were not put off. Jonny's Chevy got stuck on the Thursday night and had to be rescued by a Jeep, but this left a couple of deep ruts in the field that were to be the cause for further trouble. The food in the pub was very good and with a choice of real ales most of us spent the evenings there eating and drinking.
The Saturday rideout, despite the intermittent rain, took us around the lanes through Brock Bottom and on to Beacon Fell where we stopped for ice cream or cups of tea. Steve Flitcroft lent me his M38A1 so I was able to drive the route rather than just watch it develop from a passenger seat, thanks Steve. Darren Swann considered taking his recently acquired Bedford MJ on the run but decided the lanes would be too narrow. Wise choice as they were. On the Saturday night the discussion touched on whether we should return to the Hand and Dagger but of course there can only be one answer. Click here for the answer and make sure your speakers are turned on. That was especially for Ken and the MVT branch of the Doris Day Appreciation Society.
Another rideout was planned for Sunday but as I left just before lunch as the heavens opened again, I didn't go on it or find out where it went. If anyone can send me details I'll add them to the report. Altogether there were around a dozen vehicles attended including JLP's Plymouth staff car, recently having completed its conversion to a staff car, M38A1s, Jeeps, Chevys (Tim arrived in his to get it stuck in roughly the same place as Jonny's - oh for four wheel drive), a Bedford MJ, and Volvo L3314.
Preston Barracks Military Show
On the same weekend as the Hand and Dagger, Preston Barracks held a Military Show to which we were invited. As a result a few of the group headed from the H&D and drove into Preston to take part in the day long show. Despite the rain they reported that the event was successful and well supported, an opinion backed up by Brigadier Fitzgerald from the Barracks. See his letter here. I'm sure the event will be held again with our support.
Scone
Up in the depths of Scotland there is an annual gathering of the MVT Scotland area group. This group must represent the largest geographic area of any in the MVT. Steve Flitcroft took the MVT shop there and sent the following report and pictures.
"I attended Scone and as usual was made very welcome by all persons present. It is unusual in that the Military Section is run by the Scottish Military Group, however a large part of their membership are also members of the Military Vehicle Trust. We were very lucky in that the rain held off despite heavy rain in the surrounding areas. We at time complain of traveling distances to shows but an interesting comment from Al Smith, Area Secreatary MVT, made me think. Despite being at Scone Perth, he considers our Area as a local Area to them!!"
I suppose that is true for the northern most reaches of our membership. We in the south of the area sometimes forget how far our northern border is especially with the Cumbria area "signposting" members in our direction when necessary. We need more northern events then we can reciprocate that Scottish neighbourliness. The range of vehicles that can be seen in the photos shows the diversity of interests there.
The Victory Show
Liz Russell has provided a report and some photos from The Victory Show held in Leicestershire.
"This is the first time some of us had been to this two day event & I'm sure everyone would agree that it was a fantastic weekend, not just weather wise but in the high quality of re enactments, displays & battles that took place during the weekend. There were some fantastic living history displays from groups such as the 2nd Infantry Division, 39-45 Society, WW2 LHA British Airborne Group, Northwest 101st LHG, Hatfield Home guard, 2nd Armoured Division, Panzer Grenadiers to name but a few. The show was open to the public & there were big crowds on both days. Other attractions included Stalls, a boating lake, tank rides, classic vehicles & of course the aircraft. It was unbelievable to be sat outside our camp with aircraft (Spitfires, Mustangs, Dakotas & Hurricanes) landing on a small strip of runway within feet of us ! Amazing !! . Dave, Bob & Sandra, Kevin, Helen & Ellie had brought their jeeps which were displayed in various areas with other military vehicles, although we used them to get around the site. Bob ended up towing both Dave's & Kevin & Helen's jeep as they both developed mechanical problems during the weekend !! As a small group we BBQ'd together (Boyan, Jonathan, William & Alex included) on Saturday night with some of us ending up going to a very bizarre disco/Bar made up of a series of large canvas tents & what was like a huge dining shelter with a red cross on it !!! A very surreal experience. Our weekend was completed on Sunday when we had the pleasure of seeing a Vulcan bomber fly over."
Additional photos have been provided by Dave Salisbury.