Events (2012) pt 2
Hoghton Tower
Our second year at Hoghton Tower, just outside Preston, was a success with over 800 cars passing through the entrance to the car park on the Sunday. The displays put on by our area, Cheshire & Mersyside, West Lancs and Manchester all helped to give the visiting public something to see. Additional attractions included displays of wartime cooking by Angela Brown, a fashion parade of 40s clothing, and dancing displays arranged by Esther and Ian in the barn. Outside there was a marching band that paraded up the main road to the castle. How they managed to keep blowing their brass instruments and march up that road at the same time amazes me. Jon Newbould gave another display of field mechanics by replacing the water pump on Simon's Chevy. There were some interesting vehicles on display with Andy's Daimler Dingo, a Saladin armoured car, and Henry's repainted Yellow and Black Jeep sporting the Follow Me sign as used on landing strips. The weather remained sunny but cold on Sunday but Monday was more threatening, and it showed in the Monday attendance. Only the brave came out on Monday.
Saturday and Sunday evenings saw groups heading in different directions so while some headed to the pubs for food and drink others gathered in groups around tents and motorhomes to chat, eat, drink and socialise. As Monday afternoon was coming to a close, tents were hastily being taken down just ahead of the bad weather setting in, having just about dried out after an earlier downpour.
Altogether a successful weekend, and one that deserves to continue in the very picturesque location that is Hoghton Tower.
Vintage Metal
Martin Russell reports from Vintage Metal.
"Vintage Metal, at its great new location at Greenlands farm, opposite Longlands Hotel. A fabulous, and relaxing day in the sun, with classic cars and bikes, tractors, fire engines and all sorts. Jeeps from left, Martin Russell, Phil Russell, Stuart Reid, Liz Russell, Paul Marshall, and Martin Hayhurst's M38A1 at the back.
This venue could be so much more....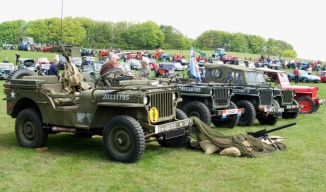 Myerscough College Open Day
Martin Russell sent this report and photos from the Myerscough College Open Day.
"Martin and Phil drove the jeeps down on Saturday to set up camp, unfortunately the rain was relentless. None the less, dining shelter was great. Phil brought a fire pit, so overalls were dried out. The evening eventually dried out and the night was very still by the fish pond. Sunday turned out to be a very warm and sunny day, with about 7 jeeps turning up. With a little display of machine guns and rifles, which kept men and boys interested for the whole day. We even had a fly over from the Blackpool Huey Helicopter."
Scorton Steam Fair
Thanks to Dave Salisbury for these photos from a rather muddy Scorton Steam Fair.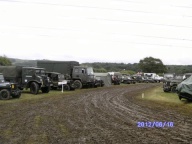 Yorkshire Wartime Experience
Liz Russell has provided the following report from the re-vamped Yorkshire Wartime Experience held near Bradford. "Here are a few pics of the Yorkshire Wartime Experience & a bit of Info.
A few of us braved the wind, & torrential rain to attend the Yorkshire Wartime Experience, held just off the M62 near Bradford. Helen & Kevin, Bob & Sandra arrived on Friday afternoon with Jonathan, Boyan, William & Alex arriving on Saturday morning ending up parking their caravans/Motorhome in the car park because it was just too muddy on the fields ! I never even bothered pitching my tent & spent a very comfortable two nights in Bob & Sandra's motorhome!! Stuart Wright, who had organised a very successful Ponderosa event last year had spent a considerable amount of time organising this weekend & it was such a shame the weather spoilt it otherwise it would have been a fantastic event. A lot of the re-enactor groups backed out because of the weather so the big battles that were meant to take place didn't. The big guns (Frank & Angela's) did fire on Saturday & re-enactors that stayed did manage to produce smaller battles in between the showers! There were a number of vehicles but not enough to fill the 3 fields! We spent Saturday walking around the muddy fields interspersed with time for food & plenty of drink!! Fortunately the marquee had survived the storm so about 70 of us we spent Saturday night listening to The Crown Top Kings & dancing to music from 'sluggers' DJ, as well as being entertained by The 1st World War group 'The Gordon Highlanders' dancing in their kilts!!!!
Unfortunately the weather only improved slightly on Sunday so we all decided we had had enough & set off back home in the morning."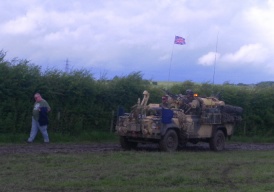 Angela Brown provided some additional photos and an extra report on this event. Here's her report. "Our tent looked just the same inside and cooking became a real challenge.
We fired the guns Sat & Sun and the mud was that bad on the Sunday the gun platform sank during the firing and had to be man handled & dragged out by the Quad. I was no 3 on the Sunday (firing) and have never known anything like it, it gives you a great deal of respect for the guys who had to do this for real. Frank's Quad was outstanding and was one of only a couple of vehicles that could actually get around the site, even dragging out the 5.5" that belonged to Mel in our crew.
It was a real shame as it should have been a great event - well maybe next year ?????
When you see LIz & Boyan just ask them what out tent was like.............the canvas we put down just got absorbed into the mud never to be seen again......."
MVT National Show - Wartime in the Vale
To support the MVT National Show that had moved further north this year to the Vale of Evesham, a number of our group trekked south to join in the event. The following photos are from the event. Dave Salisbury has provided the following report from the event. "We set off from the Marriott at Broughton Johnny and JLP in the Chevy, Graham, Ian, Kathleen and myself in Jeeps plus 4 dogs shared between two of the Jeeps. We traveled down the M6 to our first stop at Stafford. By this time the rain had stopped so giving my left foot time to dry out (must try and stop the rain coming through the screen). We then had a good run down the M5 to junction 7 where someone was in desperate need of fuel which we found in Evesham.
We checked in at Ashdown Camp, where we were told we could park up and pitch our tents wherever we wanted. We managed to get set up before the rain came. Phil Russell arrived and set up with us. We had a lot of rain through the night so Saturday was a fine day but a bit wet under foot. A trip round the stalls, which were on three sides of the arena, enabled us all to make purchases.
Then Johnny had a message to say his garage was flooded, so he and John decided to make their way home so a quick packing up of tents and they were off.
We had our vehicles on display with Ian doing a sterling job keeping the public informed.
That night we went into the beer tent just to be sociable with the other MVT members where a good night was had by all
The following day was dull in the morning but dry after a night of rain. On our way round the show we met Martin and Mark from our group who came down for the day, also Johnny's uncle Harold who was on holiday at Stratford. He was looking out for parts for an Essex car he is restoring.
On our way round the show, Simon and Steve were looking after the MVT shop where I bought a flag. The shop was doing a good trade. Simon eats like a horse; I don't know where he puts it, he must have hollow legs. I decided to turn in when we arrived back at the camp but the others went to the bar tent where they said Kitten Von Mew was doing her thing.
Phil packed up on Sunday and went home, we stayed till the Monday and left at 1000hrs with the tents packed away dry for our trip home. Having all day to make our way home we decided to use the A roads. I only made one wrong turn which turned out OK, we just went about a mile further than we needed.
At our first stop for a brew we were accosted by a man from the RBL to see if we would help with collecting for their poppy appeal. We said we already collected at the Lancaster services but told him to get in touch with the Midlands MVT for their help. We stopped at one of Graham's motorcycle cafés for lunch and our last brew shop was at the Bridge café on the A49.
We all had a smashing time and will do this show again. Thanks to all the gang at the MVT National Show for all their time and effort into making this show so special."
Thanks to Mark Lancaster for the first few photos and to Steve Flitcroft for the later ones. I've added more photos than usual to this report as there were quite a few more unusual vehicles to capture including what looks like an early Champ prototype (Wolesley Mudlark) with the rounded wheel arches, a number of special Champ versions, and some rarer vehicle types like the Humber Staff Car. I know this may not be a favourite topic but there are plenty of Jeep photos elsewhere on the site.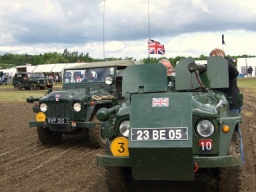 Southport Armed Forces Day
Mark Lancaster provided a report from Southport's Armed Forces Day. "Please find attached some photos of the vehicles of Myself (Jeep), Paul Connolly (Jeep), Ian Duff (LandRover Wolf) and Roger Stanforth (Army Morris Traveller).
After a damp start it was pretty fine & sunny for the rest of the day. I think because of the rain on the Saturday, a lot of the public didn't bother turning up which was a shame, but we were treated to two displays by the Royal Signals - White Helmets Motorcycle display team which were absolutely fantastic (I am sure that they had to be drowning in Alcohol to do some of the things that they did - well the bar was selling Real ale at a quid a pint!!).
It would be good next time if we could get a few more vehicles down for them."
Blackpool Veteran's week
Steve, Shelley and the two Ians managed to put on a small show in front of the Opera House in Blackpool to mark the end of veteran's week. As Ian Coats put it "Here is pic wot I took today, the chap standing next to my Jeep is ex RM and has, amongst many other gongs, a DSM. He drove a landing craft on D-Day and beached Canadians 24 times that day! A great day out, my friend Peter was seriously chuffed!"