Events (2011) pt 3
Crich Tram Museum
I've no words for a report but John Langsdale has sent me a large selection of photos from the August Crich weekend. I have produced a selection here. John is a West Lancs Area member but there are a large number of our Area members on the photos so I am quite happy to show them.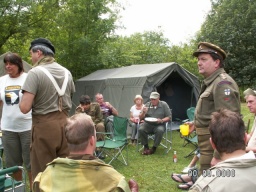 Lytham 40s Weekend
The weather did us proud on the weekend that Fylde Borough Council decided to hold the second 40s weekend on Lytham Green. Military vehicles were there in force as were other military based displays for the public to wander around and ask questions of those putting on the displays. A noisy feature was the starting and running of a static Rolls-Royce Griffon engine used in later Spitfires and Shackleton maritime patrol aircraft. Watch this You Tube video for a taster.
The organisation seemed much better than last year with parking allocated at one end of the Green avoiding the problem we had last year of vehicles driving onto the Green and parking in front of the displays. The road runs were marshalled by the Police and went through both Lytham and St Annes to the pleasure of many of the spectators. On the Sunday run I was accompanied by a Greyhound but not Graham's as featured in these pictures. It was his first trip in a Jeep and seemed to enjoy it. Saturday saw a real wedding taking place between Andy and Kath now both Hacking. The wedding took place in church alongside the Green and then moved to the Green for photographs against Lytham's windmill. The photos had to be taken quickly as Andy was expected to take part in the battle taking place shortly afterwards. Congratulations to both of them. Boyan had the right idea and got a lift in Andy's Daimler Dingo. A mock battle took place on both Saturday and Sunday though I only saw the battle on Sunday. At the end Jonathan was looking like he had been in a real battle - he looked shattered. Was that too much barbecue meat slowing you down? Helen meanwhile was cooling down and sheltering from the sun in Kevin and Helen's Cadillac, clearly enjoying herself.
The event has certainly moved on from last year and with so much space to play with is a must for 2012. Let's hope Fylde Borough Council agree. Thanks to Ian Coats and Kevin Robertson for coordinating the MVT needs and ideas with Fylde Council.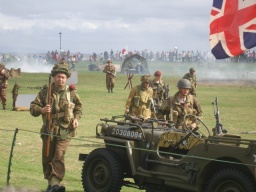 The Plough in August
Our August visit provided us with the opportunity to dodge showers and plan road runs with care to miss the weather. We succeeded. Saturday's run was up into the Trough of Bowland where the beautiful scenery would have made some great photos, but we drove through without stopping. The obligatory stop at Bonds of Elswick for ice cream was the final stopping point before heading for The Plough. The Sunday run took us to Glasson Dock, Preesall where we stopped for a break and managed to take some photos, then on to Knott End. Both runs missed any heavy rain. The weekend was a successful social as is always the case at The Plough, with fine food and drink from the pub itself and cheese in what has now become "the Cheese tent". This is a 12x12 into which we all piled at the end of the night.
A further meeting is planned for the end of October for our Wind-down.
Arnhem
Ian Wray has provided this report from our group's trip to Arnhem.
"Four Jeeps parked up outside the Marriott Hotel, the meeting point for an intrepid band setting off for Arnhem. Jack to see us off and Paul (Two teas), Graham, Esther and Ian who were to be guests of Airborne Battle Wheels in Oosterbeek, Holland.
An uneventful trip through minor roads via Skipton, Ilkley, Otley, Tadcaster and skirting York had us soon in Hull. We eventually found a chippy for tea and were soon awaiting being boarded. Ian and Esther again subject to Customs enquiries (obviously suspicious looking types) but soon all the vehicles were on ship. A mill pond crossing over-nighted us to Rotterdam and a smooth run through to the campsite in Oosterbeek. Being only a small group this time, we were put in with another group. It seemed crowded at first but everybody coped.
Thursday was a set-up camp day and sort out paperwork, luckily none of our party had weapons as it seems quite a palaver with the Dutch legal requirements. Friday saw us all out on a conducted tour of major battle sites which was very informative. Saturday saw us forgo the early 7am trip to Ginkel Heath and instead visit the Hartenstein museum (scene of much fighting during "Market Garden") in the hope of beating the crush. It was a good choice as the museum has had an extensive (and expensive) re-vamp since our last visit including digging out the cellar to provide a "living through the air raids experience" which is not to be missed. All museums seem to have vastly improved during the last few years.
In the afternoon we made our way to Telefon Weg where the run to the Arnhem Bridge was to start from, and were just in time to see the last of the paratroopers drop onto Ginkel Heath. The (at least) 50?? vehicle convoy into town has to be experienced to believe it. It is like Pickering but it is 5 miles long with crowds lining the route cheering and clapping all the way. Motorbikes including Welbikes smoothing the path of the convoy by blocking side roads and roundabouts. Some of the bikers, including the Police, behaving as though they had a death wish hurtling up and down the line often on the wrong side of the road, but all survived.
Sunday we had decided was for a long trip to the museum at Overloon the scene of a major battle quite a time after the Arnhem debacle. The Overloon fight we won of course, but it is overshadowed by Arnhem. Don't we Brits love a magnificent defeat!!! The museum appears to have an example of virtually every type of vehicle used in WW2 (except there is no Welbike) all in superb condition and extremely well presented, some in very authentic looking dioramas. Well worth a day out even if it is an hours drive and we all got caught in a torrential downpour with no canvas up!! Cue hasty exit to motorway garage along with numerous motorcyclists to shelter and put up our roofs.
Sunday evening and the almost traditional meal at the Chinese where we raised a glass to absent friends and all too soon it's Monday and time to come home. The return trip was as smooth as the journey out and everyone was home for tea on Tuesday. The whole trip was navigated by Esther and the odd encirclement of roundabouts and u-turns was only to check the alertness of those following.
Roll on next year's trip."
Thanks Ian, and what's with the many mentions of a Welbike? Just because you have one ;-)
Manchester Militaria Show
A new venture for 2011 was a Militaria Show held in Manchester. Ian and Esther attended and gave this report. "The new Militaria Fair at Manchester's Exhibition City was from my point of view an excellent event. There seemed to be something for everyone. The majority of North Lancs & South Cumbria and West Lancs MVT groups appeared to be in attendance. Let's hope this is the first of more to come."
Poppy Day Appeals
A group from our Area went to Kendal Town Centre to collect on behalf of the RBL. Martin Russell provides the story "Poppy appeal, Kendal Town Centre on Saturday 5th November. We filled 4 collecting tins to overflowing. A brilliant day, sun was out, and many interesting ex-servicemen and women. Jeeps by Stuart Reid, Philip Russell and Martin Russell, Simon Gregg's M38A1, and Rupert Fox's lovely Schwinn Cruiser DeLuxe american cycle. And a big thank you to John Ward and Roger Preston from the Ingleton Homeguard . A huge thank you to all who attended." A grand amount of £755.12 was raised. Well done.
Another collection site was the Forton Service Station on the M6. Dave Salisbury gathered a collection of people and their vehicles to help increase the funds of the RBL. Here are some photos of their efforts.
On the 11th November at 11:00 a service was held at Preston Railway Station in remembrance of all who served and died over the last 100 years in the service of their country. We were invited to attend in period uniforms and to display a number of vehicles to add to the ceremony. A number of the photos are shown below, taken by Norman Callaghan.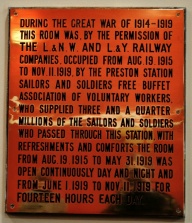 On Remembrance Sunday the 13th November, a service was held at the Kirkland and Catterall Community Centre. A collection of static engines, vintage cars and tractors, and of course a contingent of MVT vehicles turned out with their owners for the service. The reading was given by Dick Newbould, father of our own John Newbould, leading to the 2 minutes silence. Tea and cakes in the hall followed, with pie and peas later for lunch.