Events (2011) pt 1
New Year meal 2011
The cold didn't stop around 10-12 vehicles from both north and south of the area converging on the Longlands Hotel in Carnforth for our annual New Year meal. Setting off from Kirklands Community Centre with the roof down on Ian's Jeep, we made sure we were well wrapped up. Paul Lomax, Kev Robertson, Ian Coates and Barry Marshall were in the same situation. Graham, on the other hand was in the luxury of his Renault camper. From the other direction, Simon and Steve drove down from Windermere, Lewis arrived in his Gaz Amphibious Jeep, and Martin in his Jeep. Liz had been searching for somewhere in the north of our area for a meal but as we had already met there a few years ago, the decision was soon taken to return to the Longlands Hotel. Around 28 people enjoyed three courses of fine fare at the hotel. I am sure we will be returning. The journey home for some of us was as cold as the journey there but enjoyable none the less.
Hoghton Tower Recce
They braved the harsh winter with gale force winds and biting temperatures. Their clothing was not up to the task but at least they had the warmth from the engines, insulated with some maps provided by HQ, to give some feeling back to the tips of their fingers. The strength returned enough to point their fingers. At what we'll never know, as these brave men from Manchester and South Cumbria & North Lancs areas of the MVT carried out a recce at Hoghton Tower for an event to be held in 2011. A single guard was positioned high in the battlements of Hoghton Tower, to make sure the venue did not decide to make a bid for freedom from what was about to happen when men and machines (sorry, women too just to be PC) descended on the grounds, just outside Preston in Lancashire, to give the general public a glimpse of what it means to be a member of the MVT.
Wilkinson Sword Presentation
As a surprise to us all, Simon Bromley, the General Secretary of the MVT, arrived at our April meeting to make a presentation to Dave Salisbury of the Wilkinson Sword award for furthest traveled member in a second world war vehicle. While I know Dave is Secretary of the West Lancs Area group, he does attend our meetings so Simon took the opportunity to present the award at our gathering. Congratulations Dave and let this be an inspiration to you all to enter the contest for next year.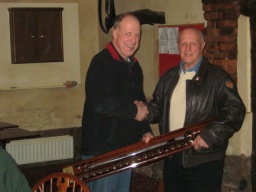 Hoghton Tower Wartime Weekend
A new venture for the owners of Hoghton Tower in co-operation with the South Cumbria & North Lancs and Manchester Areas of the MVT, this event was held on a very sunny but windy weekend. Those who braved the Saturday night suffered more with the wind than on the Sunday night, but we're made of stern stuff! The weekend comprised a number of displays, wartime austerity cooking and fashion show from Angela and Frank Brown followed by wartime dance routines from Ian and Esther Wray. Of a more technical nature, Jon Newbould set his Chevy Wrecker up to look like a REME field repair station and with many Jeeps and trucks requiring actual repairs, it was no make-believe display but an actual working REME station. Dave Fellows Jeep had its differential rebuilt, Dave Forshaw's Bedford Bowser had a service, and I had a nail in my boot hammered flat! Pete Morgan, another member who is also a professional mechanic had to call on Jon's help when a fuel pipe ruptured at its mounting point. The end was cut off and a newly flared end sorted out the leak.
There was a display in the woods by a British Paratroop group, including camping under a parachute. Saturday night proved fun with the wind blowing the chute and billowing around those trying to sleep under it. Paul Loamx headed for home early in the morning for an additional quilt as he was so cold. The vehicle displays included many Jeeps, and a Saladin Armoured car to name a few. One due a special mention must be Simon Bromley's, MVT General Secretary, Harley WLC that he has just acquired. Watch this space for further stories of how the riding lessons go for this machine.
Thanks to everyone who turned up to make the weekend the success it was. The Tower owners reported about 750 through the gate on Sunday with a similar number on Monday. Altogether I understand they were happy with the weekend, so hopefully we will be on for next year. Thanks to Tony Lee and Barry Marshall for co-ordinating this event on behalf of the MVT.
The Plough Crank-up
A small gathering of vehicles and people met at The Plough at Eaves for a Crank-up meet for a weekend of chat and food. The Hand and Dagger was not in a fit state to use so arrangements had been made to hold the meeting at The Plough. A few arrived on Friday with the rest showing up on Saturday, me included. Steve lent me his M38A1 again, which after a bit of trouble starting it when I collected it from Steve's house, then behaved very well for the rest of the weekend. Fuel starvation after several days without running seems to be the problem. John Le Page's Jeep had a new slave cylinder fitted before breakfast on the Sunday by Jon Newbould. It is impressive to watch a professional at work as I would only be at the point of undoing the hub nut by the time Jon was dropping the Jeep back to the ground having completed the job. Saturday saw us on a road run to a favourite haunt, Bonds of Elswick for an Ice Cream. The pub was the location for both evenings social gathering with plenty of food and drink consumed, and for breakfast on both mornings. A full cooked breakfast with toast, tea/coffee and orange juice all for £4.50, a real bargain.
Bad weather on Sunday prevented us having another road run, so it was a case of wait for the rain and wind to drop and quickly pack tents and equipment away before the rain started again. The venue is very compact, and in a very rural location, but we have booked in for August when we hope to have more people attending as hopefully it won't clash with any other events.