Events (2009) pt 4
Southport Air Show
Dave McCoull was invited to the Southport Air Show by the Cheshire and Merseyside branch of the MVT. Dave gave the following report:
"I decided to attend Southport Airshow courtesy of the Cheshire and Merseyside M.V.T. It was an early start as we had to be there for 8am, which meant leaving Nelson at 6am. It was worth it as the roads were quiet and we had a good run into Southport arriving at 7.20 am. The campsite was in Princes Park, where they had roped a nice quiet area off soley for M.V.T. camping. Met up with Alex and Dave (the M.V.T organisers) who made us most welcome and put the kettle on. They gave everybody a laminated sheet with the vehicle details to put in the windscreen, a nice touch. At 7.50am we left the campsite in convoy down to the beach, which was about 5 minutes drive. The sand was hard packed, just like driving on a road, where again we had our own area barriered off, right in the centre of the action. We had a grandstand view of everything. There was a lack of vehicles, those on beach were my REO, another REO from Liverpool, A Willys jeep, Dodge Ambulance, and Austin K9. The show was superb, the star being the Vulcan bomber, but also the Typhoon Eurofighter which nearly made your ears bleed when it was on reheat!. We had the usual problems of the public climbing on the vehicles, so I had to put my "keep off" signs on. This states that military vehicles are like other men's wives, o.k. to look at, but not to be touched, fondled, caressed, or climbed on without the owner's permission!. The public found this quite amusing, and more people took photos of the notice than they did of the truck!. At the end of the show we all got money for expenses which was a bonus, full marks to Dave Sutton for the organisation. This is one to attend next year. The only downside was it took us 2 hours to get out of Southport as there was over 30,000 spectators all trying to get home."
Thanks Dave and your photos follow.
Illuminations run 2nd attempt
Success! We managed to complete the run on the 2nd attempt. Setting off from the Red Lion pub in Bispham, we tackled the run from the north heading south and it seemed to work. There were some delay going up Red Bank Rd to the seafront, but once there the traffic kept ticking over. The surprises of the event were the presence of an Abbot self-propelled gun and a FV432 with a RARDEN gun turret. Not many of the FV432s were made with this turret so it was good to see one in private hands. The other surprise was a "professional" photographer with two "models". Who they were and why they were there was a mystery to Bob who organised the run. The surprise I got was a mouthful of abuse from the "photographer" when I took the picture you see below. Who does he think he is muscling in on our event and shouting the odds? I think "Get a life" springs to mind.
Back to the story, there was a lot of interest at the pub and on the route, in the vehicles and what we were doing going through the lights. We did draw attention to ourselves just a little with music blaring from the very non-40s attachment to Ian and Esther's Jeep. See if you can spot the non-standard addition.
With all the forms completed and sent to the Guiness Book of Records, we hope the run qualifies to be in the next edition. Good luck with this Bob.
Hand & Dagger Wind-down
Dave and George persuaded the boss of the Hand & Dagger in Treales to allow us to stay on the filed alongside his pub for a wind-down event. It didn't take much persuasion as he seems to be really keen for us to go whenever we can. We have already booked the next two meets there (see our Future events webpage for 2010). It was a quiet event as all good wind-downs are, just friendly chat, a drink or two and some good food. Except for some, with a bit of excitement for Jon Newbould as his Jeep was smoking as he arrived at the field. A quick trip back to his workshop and he returned a couple of hours later with new head skimmed and fitted in place. The old one had cracked and was letting oil in where it shouldn't. A road run to Bonds Ice Cream parlour fitted the bill nicely for the 15 vehicles that took part. Most folks stayed overnight on the campsite but a few came for a day visit on either Saturday or Sunday. I half stayed with Rachel, but left my tent to go home to sleep after Rachel spotted a large spider and a moth taking up residence in the ladies toilets of the pub. This freaked her out so we had to return home to answer the call of nature. Here a re a few snaps of the vehicles there.
Poppy Appeal - RBL
Martin, Tim and Rupert set up their vehicles outside Aldi in Kendal to help raise money for the Royal British Legion Poppy Appeal. I'll post the figure raised when I know them.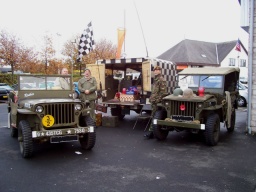 A Remembrance Day service was held at the Churchtown Memorial Hall on Remembrance Sunday. Dick Newbould performed a speech of Thanks to all the services for their dedication and sacrifice. Vehicles were provided by both 4 and 2 wheeled vehicles were provided by John N and Graham. Jeeps from John LeP, Ian McCormack and Barry and a Bedford water bowser from Dave added to the display.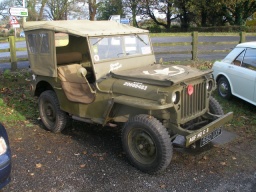 Inskip Fun day
Funnily enough it wasn't at Inskip but at St Michaels. Don't ask why but it was. Several Jeeps turned up driven by Dave, Ian, Brian, Jack, Jonny, John, and Barry. To quote Dave, "Graham came on his old, old bike." Well most of the group's vehicles can be described like that. A good run out to the chippy was arranged, though with a good hotpot supplied at the venue, I'm sure they weren't really needed. The colour in one of Dave's photos is a little "blue" but Ian has come up trumps with some others now added.