Events (2009) pt 3
Windermere Air Show
It might seem odd including an airshow within our events, especially based around Windermere in the area of the UK called the Lake District. More famous for water sports than aircraft, it was actually home of some of the famous Sunderland flying boats so there is a link to aviation. The organisers of the airshow have encouraged military vehicles over the past few years so helped by Simon Gregg who organised the camping for Military Vehicles there was a hope that there would be a good turnout. Unfortunately there were too many other events attracting our members, so only a few turned up. Those that did attend said they had a great time, so hopefully next year more of you will attend. One of the highlights was the flypast by an Avro Vulcan bomber. Photos are courtesy of Steve Flitcroft's Facebook site. Such was the appreciation by the Air Show organisers that they presented Simon with a cheque for £300. He will be presenting this to Elaine Ward at our September meeting to pass on to the Help For Heroes charity. Simon wishes to thank everyone who attended and making the event a success.
War and Peace Show
Only the brave dare take their precious military vehicles from the North West down to Kent for the War & Peace show, but some do. Others take their normal day vehicles hoping for a smoother drive down. However the intrepid members of our group who went there traveled, a mix of very dry dusty conditions and wet muddy conditions kept them guessing whether to wear wellies or sandals. The displays were as inventive as ever as was the mix of vehicles. Judge for yourself from this selection of photos taken from Craig Leadley's collection of about 200.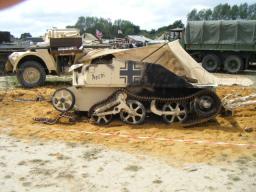 Jeeps & Jets
Ian McCormack provided a report from Jeep & Jets. "As discussed, here is some info from Jeeps and Jets held at the North East Aircraft Museum, Sunderland in the weekend of 8/9 August 2009. Rupert Fox and I traveled up to Washington, Tyne and Wear, for the weekend and stayed with Steve and Lynne Carr (they have previously made the journey in the opposite direction for events at Ingleton and Rawcliffe Hall).
The Jeeps and Jets event was to raise money for repainting the museum's Vulcan bomber which flew in to Sunderland airport (now the Nissan car plant) in 1983 for display at the museum and is now looking a bit 'tired'. We (Steve, Stuart (Steve's dad), Rupert and me) set up an 8th Air Force display with Rupert's Flying Control Dodge, Steve's and my Jeeps, a 1/6th scale radio controlled B17 and a Signal Square designed and built by Steve Carr. The signal square was sited alongside the control tower at airfields and contained symbols to indicate visually to over-flying aircraft conditions on the airfield including wind direction.
Also displaying were a number of Living History and re-enactment groups including a Field Kitchen, serving up soup and corned beef hash, and a US Army field hospital complete with casualty. On the Sunday there was a display by a group of Star Wars re-enactors which caused great interest and amusement especially when they were tooled up with WW2 weapons.
We had a really good couple of days at the museum in glorious sunny weather and it was well worth the 5 hour journey through some spectacular countryside (including a tailgate picnic - burgers not champers - in Barnard Castle).
I've attached a few pictures but more can be found on Steve's website (http://www.armyairforce.co.uk/) and HMVF (http://www.hmvf.co.uk/forumvb/showthread.php?t=14193)."
Saddleworth Military Weekend
The sun shines on the righteous so they say so we must have been doing something right at the Saddleworth Military Weekend. The venue was ideal for displaying vehicles and what a collection there was to view, ranging from Jeeps and Land Rovers to Scammel and White heavy movers and a more upto date HMMWV. Lightweights were treated to a run out organised by the Champ Owners club, but this turned out to be too much of an off-roading experience for the more caring historic vehicle owners. Sunday's run with all vehicles including the heavyweights was one of the largest convoys I've been involved in. My legs were stiff with all the clutch and brake work to be done (Those that don't know I'm 6' 4" and was driving a Ford GPW - not a match made in Heaven.) Well done to the Manchester Area for organising this event.
Birley Arms North West Collectors event
The Birley Arms in Warton played host to the North West Military Collectors Association who put on a weekend of entertainment and drinking. A number of our MVT group attended, including Ian and Esther with their new purchase strapped carefully to the front of their Jeep, a Wellbike. I hope to add some pictures of this bike in the near future. Organised in part by Bob and Sandra, Friday night just had to be Karaoke. I did not attend but I hear it was very good (How's the head Barbara?) One of the main attraction for the Saturday, once the rain stopped, was a run out to the memorial in Freckleton to the memory of the B24 Liberator that crashed during a storm into the village killing a total of 61.The NWMCA laid a wreath there as a mark of respect. See the following link for full details. http://web.ukonline.co.uk/lait/site/B-24%2042-50291.htm. I hope Sunday was a little better weather wise. From a vehicle point of view there was a very interesting White Scout car that I was told by the owner, he had owned for the past 9 years, spending much time and money trying to get it as near perfect as possible. The effort certainly paid off as it is a very well finished example. A visit from the Mayor to see what we were doing on the Sunday brought an air of officialdom to the day. Thanks to the NWMCA for this event. A final comment just received is that £100 was raised for the Royal British Legion and £119 for the Leeds Children's Home in Silverdale.
Mannering's March
Elements of the Ingleton Homeguard have completed the walk along Hadrian's Wall from west to east. For full details see http://www.ingletonhomeguard.co.uk/wall.htm. The intrepid walkers were Elaine and Georgia Ward, Dave "Reo" McCoull, Roger, and Dave Houghton with support from John Ward, Martin Russell and John Lewis. The amount raised was £1056, but you can still add to the amount by visiting www.justgiving.com and typing in Elaine Ward's name.
Illuminations Run
An attempt was made to enter the Guinness Book of Records with the longest military convoy through the Blackpool Illuminations. However, you may remember that D-Day was christened "The Longest Day", well the run through the Lights was christened "The Longest Wait". We traveled about 150 yds in one and three quarter hours. Eventually a call was made to re-group back at Gt Birchwood so all the vehicles turned around and either returned home or went to spend the evening at Gt Birchwood. There were about 40 vehicles gathered and would have made a great spectacle but the traffic was just totally jammed. Well done Bob and Sandra and the North West Military Collectors for organising the weekend, but next time let's have the run mid week when there is less traffic. Hindsight, and all that, is a wonderful thing.