Events (2009) pt 2
Elvington
The airfield at Elvington is always a popular event. Craig took some pictures there to give a flavour of the event for those, like me, who have never been. The variety of vehicles is outstanding for an event this far up north, ranging from the many Jeeps and LandRovers to a Chaffee tank and Bren Gun Carrier.
Normandy 65th Anniversary
A number of our group headed for the beaches of Normandy to help commemorate the 65th Anniversary of D-Day. A few names that I've picked out from the photos are Simon Gregg, Steve Flitcroft, and Phil Russell. I've copied some of Steve's photos from his Facebook account. Additionally, I've copied some pictures from Benny of the VMMV whose group went from Belgium. The full set of his photos can be seen at http://picasaweb.google.com/albumvmmv/VMMV_Normandie_2009?authkey=Gv1sRgCLbO9MOK1Kz95wE. Both tell me the event was superb with military vehicles and people every where you looked.
Carnforth Station
The Brief Encounter cafe at Carnforth Station was the location for a gathering of vehicles and re-enactors to re-create the 40s. A selection of Jeeps, Dodges, and a Gaz made up the four wheeled attractions, while a Matchless and a Kettenkrad sort of made up the two wheeled contingent. A road run was arranged for both Saturday and Sunday and a dance on the Saturday night in the Brief Encounter Cafe gave people something to do. Displays of military equipment filled any small gap on the platform, completed by Bill and Chris's militaria stall. Thanks to John and Elaine for arranging this event.
Scorton Country Fair
On the same weekend Scorton Country fair was held and Ian Coats arranged for a collection of vehicles to attend. Unfortunately not all that had booked in turned up, but there were some unusual ones on display, including a UN Ambulance. Despite the reduction in numbers the organisers were reportedly very happy with the display.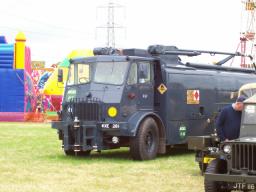 Ingleton Home Guard
John and Elaine's efforts in organising the Ingleton Home Guard event have paid off again. The weather was much better this year than last, and it showed. Saturday was packed with visitors and re-enactors while Sunday was not as well attended as the weather was a little more unpredictable. Fly pasts on both days by aircraft from the Battle of Britain Memorial flight were welcomed, although many were surprised by seeing someone standing in the doorway of the Dakota, waving, as they flew past. I was asked why I have never shown a picture of Brian and Eve on this site despite them attending many MVT events. So to keep the visitors to this site happy, here is a picture, taken against something green of course. Our vehicles were involved in the skirmishes in the village centre carrying the victorious General into town. The road run took us out into the countryside, via a pub of course, ending up at a viaduct where we stopped for some photos to be taken. The location was quite impressive though the public must have wondered what was going on.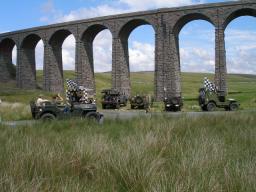 Hand & Dagger
As Rawcliffe Hall was not available this year, but hopefully will be next, Dave Fellowes and George Langford arranged for an event to be held at the Hand and Dagger at Treales just outside Kirkham. We had visited there a few weeks ago and found the lay of the land pretty good so when the weather promised to be fine apart from at night time, we were hopeful for a great weekend. In preparation for the weekend visitors, a mine was laid in the canal, and we waited for comments to be made. Road runs on the Saturday and Sunday took us to the Bond's Ice Cream factory in Elswick where we surprised the customers and staff alike. Over 30 vehicles were on site over the weekend ranging from Jeeps and Land Rovers to a Ferret armoured car. The landlord and landlady of the Hand & Dagger provided food from Breakfast time all the way through the day, and it was well worth eating. Music and dancing was arranged for the Saturday night with Tom Cat Le Tache acting as the DJ. This was a well supported social event with the public wandering around the vehicles and asking those searching questions that we all come to love, like "Hey Mister, that's a Jeep init?", though some were more serious. You owners responded well to the questioning. The view is we want to return there next year and the landlord does too.