Events (2009) pt 1
New Year run
Liz Russell arranged for us to visit the Stag's Head in Goosnargh for a meal following a drive out in the cold of the 10th of January. We met in the Grasshoppers Rugby Club car park for a chat before setting off on the route planned by Dave Salisbury. Thermals, gloves and thick coats were needed as ice lay thick on the car park surface. I think the Rolls Royce was the best place to be that day. The run went well apart from a mischievous rotor arm that insisted on playing up in Ian's Jeep, and a reluctant battery in Steve's M38A1. We all made it to the pub in time for the food that seemed to go down a treat. A selection of the photos from the day are below. Thanks to Liz and Dave for organising the day that turned out to be a very good social event with about 18 vehicles and 35 people attending.
Silverdale - Leeds Children's Home
Bob and Sandra managed to fill the Leeds Children's Home for the first bash of the year. Only a few vehicles, Bob's GMC included, attended for the full weekend but a number of day trippers came through. Stewart in his Jeep and Craig in his LandRover to name two. Entertainment on the Saturday night came in the form of Tom Cat Le Tache doing his DJ bit and getting folks to dance, a rock band (sorry I can't remember the name), three young ladies impersonating the Andrews Sisters, and James playing the banjo. The funds from this event go to the Leeds Children's Home. When the final count is in I'm sure Bob will let me know and I'll publish it here. To help raise funds, three of the NWMCA volunteered to have their hair shaved off. The best cut of the day had to be Mike's. A few photos from the event are shown below. These should not be confused with the photos that Pete takes of the posed shots. He then cuts and pastes to authentic scenery. See http://www.nwmil.co.uk/index.php for some examples.
The amount raised so far is £1,476.52 with some more still to come in.
An additional report has been provided by Graham Broomfield as follows:
"OK why Christmasdale ? Because Christmas occurs out of the military season so Sandra, Sue, Barbara and others decided that they would like to see everyone at Christmas so they moved Christmas to the Leeds Children's Holiday Camp just outside Silverdale in Cumbria. Don't ask me why, but in a pub at 11.00 pm it made eminent sense which daft things always do. It took place over the Easter break and started in earnest on Thursday night with a drinking session at the Holgates caravan park clubhouse across the road from the children's camp. Not everyone arrived on Thursday but Friday saw the remainder of the motor homes arriving taking up residence on the car park thus leaving the famous view from the lawn at the rear of the home unobstructed. The sunsets over the bay are the highlight of everyone's stay at this event. Whilst people were arriving on Friday a small reconnaissance party visited Lancaster, using the local bus and train. The weather was dull with occasional rain but whilst the girls foraged for 40`s clothes in the charity shops the guys went for some liquid refreshments in Scruffy Murphys. Friday night was reserved for Bobbyoke (Karaoke to you and me) so the whole evening echoed to Delilah, and Living next door to Alice etc. Two stars emerged out of what became a free for all, one was Mick for his brilliant renditions of Billy Fury numbers and Big Al (fingers) for crooning his way through slow boat to China and Fly me to the moon, obviously a travel theme going on there. Saturday morning was spent going round the car boot sale that had sprung up whilst we were asleep, a few people went for a swim at Holgates and the remainder nursed their hangovers. An excursion took us to Arnside in Bob's "Jimmy " to check out the sale at the village hall but it turned out to be only Jam and Jerusalem and no 30 Cal machine guns on any stall so, you guessed it we retired to the pub. Saturday was cabaret night with a host of artists including a 16 year old lad performing George Formby songs whilst playing the ukulele, followed by our very own Andrew Sisters tribute act. As mentioned earlier Mick and Al gave us further renditions of their Karaoke favourites. To finish of the show we saw Anthony Prestons latest group consisting of the Alleways who literally blew us away with cover songs of other artists and one of their own competitions. The evening was brought to an close with the lighting of the "make a wish" miniature hot air balloons provided by Lesley. They floated heavenwards with 50 pence wishes written on them. The money raised went to the children's camp own funds.
Sunday morning was relaxation time with an impromptu game of rounders come baseball before an excursion to the Woodlands pub in Bob's "Jimmy" again. On the return journey the passengers were treated to an embryo "Jimmy" driver when Bob let Graham drive them back to base. We cannot print the constructive criticism offered by riders as they are unprintable. Once again a great weekend away thanks to Bob and Sandra plus all the boys and girls who helped and cooked the Christmas dinner well done you know who you all are.
Total money raised was £1,476.52 which is more than last Easter's show, so well done to all who supported the weekend and bring it on in October later this year."
Crich Tram Museum
On the same weekend as the Silverdale event a number of our members went to the Crich Tram Museum for their 40s event. Dave Salisbury, Ian and Esther stayed for a couple of nights and I await their report. I visited on the Monday but clearly did not look far enough to find them. It is a long drive in a car, never mind in a Jeep so hats off to those that do drive down. I took a few snaps shown below and had to include a Blackpool tram because that is where I come from..
York Crank-up
Geoff Brogden has been negotiating the sale of his Dodge WC62. The advert on our site attracted Benny De Maeyer in Belgium, the president of www.vmmv.tk, a Belgian military vehicle association. You may need to practice your Flemish as there is no English on there at the moment but there are some useful photos and links to other sites of interest. The deal was done and Benny was going to pick up the truck with his friend Patrick. The question was, when? We arranged for the visit to coincide with the Yorkshire Area Crank-up meet in the centre of York. I'm glad we did, the location was perfect and there was a large turn-out of vehicles, including our own Dave McCoull in his REO. Having toured the vehicles we headed for the riverside for a glass of something refreshing. I could have stayed there all day. If you are looking for a day out next year, go there. There is a mix of MVT groups from Yorkshire, the North East, and now the South Cumbria & North Lancs.
Wray Festival
This event is normally used to publicise our Hornby event, but this year that is not to be so rather than waste the weekend, several members joined to publicise the Ingleton Operation Home Guard event. I don't have many details but I do have a couple of pictures.
Clitheroe Festival Event
I had been asked for advice with some minor elements of the festival that was to be a 40s themed event this year. Frank and Molly Watson have arranged a festival weekend in Clitheroe for the past 5 years but this was the first time it was to be a 40s theme. A number of vehicles from our MVT area, Manchester and Yorkshire attended, and parked up on the Castle field. A lot of interest was generated, in particular form Frank Watson who now tells me he is thinking of making the 40s a regular event. We camped at Backridge Farm, a couple of miles outside Clitheroe, which was OK for facilities but a bit far from Clitheroe to enjoy the night life that had been arranged for the weekend. Having said that transport was arranged between Clitheroe and Backridge Farm using historic buses including a steam bus. Looking at the Clitheroe Advertiser website, there were some (Bob & Sandra, Kev & Helen, Graham, Pete and Liz) who managed to make it to the village events throughout the day. Ellie and Hannah both looked the part as WRENs. It is a shame I missed some of the festivities as there was a CAMRA Real Ale event held though I gather they ran out of beer sooner than they expected. Take a look at the slide show on http://www.clitheroeadvertiser.co.uk/clitheroenews/Clitheroe-Festival-Weekend.5280208.jp while it is still available to see what I mean. Members of the Ingleton Home Guard were present, though John could not bring his Austin as it is being repaired (rebore/new pistons/etc). Well done Frank and Molly and good luck for future events.
East Lancs Railway
One of the best 40s events in the North of England and I forgot my camera!! Neil organised a great weekend again involving all the stations along the East Lancs Railway route with battles on the Saturday and Monday at Rawtenstall and a skirmish at Irwell Vale on the Sunday, flyover of the BBMF Dakota, music at every station, and masses and masses of people in period clothing to generate the atmosphere. Irwell Vale featured more this year than in the past due to the enthusiasm of the village residents association. A number of us took the opportunity to camp there, some on the Village green in tents, and others on hard standing in caravans and trailer tents. I must remember next time however that the soap works close the barrier to their car park at 22:00 and don't open it til 08:00 (the owners allow the car park to be used for parking for the event and for hard standing for caravans and the like). A parade was arranged to the church involving all the services represented by the re-enactors. Ingleton Home Guard paraded in the village. As some of their members are also MVT members I have included some photos of them. The Saturday night barbeque was superb with all you could eat for a paltry sum. Sorry I did not attend the dance Neil arranged at the Bury Town Hall, but the friendly atmosphere at Irwell Vale was too big an attraction to resist, plus with my trailer tent only a short walk away it meant a few cans were allowed.
The Burrs continues to attract many campers, and this year Bob arranged a Karaoke and other entertainment for the campers there. Reports of a lock in at the Brown Cow are probably justified.
I can't wait for the second ELR 40s event to be held on 26-27 September.
Thanks to John Ward and Stuart Reid for the photos, a few of which I have included here.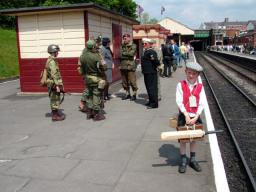 Impromptu Hand & Dagger gathering
With Hornby being cancelled, som MVT members were left with a free weekend with nothing to do so rather than decorate the house, they spoke to the landlord of the Hand & Dagger to see if they could camp on the field that we intend using during our July gathering there. He agreed so that was that. The sun shone and the beer flowed on both Friday and Saturday night. Daytime was purely for chilling out. There was no entertainment, just the company of other MV fanatics and some bemused passer-bys. Special mention has to be made of the landlord who provided a pot of curry at 1:30 in the morning. This was either as thanks for providing an attraction at the pub, or to try to persuade the few who remained to get to bed. Dave Salisbury arranged a ride out each day, ending up at Bonds of Elswick on Sunday for an ice scream. It's looking promising for our July event here.