Events (2008) pt 2
Lytham Hall, Lytham St Annes
Mark Greenall visited Lytham Hall as he had read Phil Connolly's Huey would be there and a contingent of Vietnam era vehicles. He was right as the pictures show. The day was organised to raise funds for the North West Air Ambulance by Phil also as a bit of a thank you for some filming he did there last year. There weren't many vehicles there but it was a warm sunny day so what could be better. A bit more advertising of the event and we may have been able to provide more vehicles if we had known about it. Organisers take note.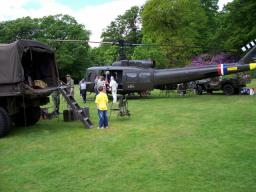 East Lancs Railway
This regular event for our group attracted members to two locations; The Burrs just outside Bury and Irwell Vale, a small village on the ELR line. Each site had its own attractions, but unfortunately I could not stop at either due to my broken leg, but I did visit for the day on Saturday. If anyone has pictures or stories to tell, let me know and I'll add them to this article. The event seemed to be very well attended by re-enactors and the visiting public both on the trains and at the stations. I spotted Paul Harper belting out his regular songs on Bury station. I was not sure that many vehicles had turned up but that may have been a mis-interpretation as Irwell Vale was almost empty when I visited save for Dave Salisbury and Barry Marshall's tents on the green and another group based next to the station. Perhaps The Burrs was busier with Bob, Sandra, Richard, Sheila, Kevin, Helen, and Simon being based there. Apologies for names I missed as I did not make it to The Burrs itself. Bury station had a few vehicles parked there as my photos show, but did not appear to be a busy as usual. Maybe the fuel price rises are starting to hit. I hope the weekend was a success for Neil Partington, as he deserves it with all the hard work he puts into it.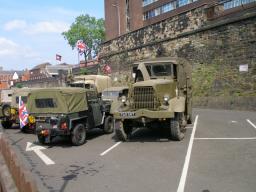 Hornby Castle
The weekend started very well with lots of sunshine that brought the public out in comparative droves compared to last year. The top field was full of military vehicles, displays (including The Pegasus Collection) and stalls selling all manner of militaria and food. The bottom field, usually reserved for civilian camping and an overflow for the military was also full. I managed to pitch my tent under some trees after driving twice round the field looking for a space. I've never seen the fields so full, well done to Barry and John for the successful publicity. There were a number of specialist display areas featuring a Russian vehicle collection, Crusader 80 (BAOR Living History Group), and the North West Military Collectors Group who wanted to take on the American Civil War group in a mock battle to see who would win.
As a change to usual WW2 battle, an American Civil War skirmish was re-enacted by the American Civil War Society on both Saturday and Sunday. It was a slower paced battle carried out with precision and to a rigid format as the muskets were muzzle loaded. The road runs proved as popular as ever, though Sunday's run was spoilt a bit by the rain.
Initial reports are that the finances were covered despite less than expected numbers of public attending on the Sunday due to the rain. Congratulations to Barry and John on another successful event.
Graham White provided me with a set of photos, some of which are included here. I'm glad someone has managed to capture Keith Broome on his Harley as by the time I get my camera ready he has already accelerated off into the distance. He looks like the cat that got the cream, but then it was a warm sunny day and to be out on a motorbike must have been bliss (oww my leg!). It was unusual to see a Saladin at the event. This is the first time I have seen it in these parts. And of course the Home Guard always learning the ropes - it seems John is about to grab Spencer and say "No you do it like this!"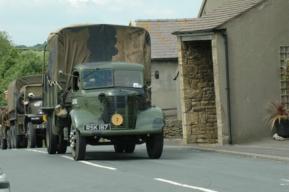 Blackpool National Veteran's Week
The weather might have conspired to force the air show to be cancelled but the stalwarts from the South Cumbria & North Lancs MVT stuck out the 63 mph winds to give a show to those members of the public brave enough to face the wrath of nature. The Air Show on Saturday was rained off apart from one aircraft. The rest of the displays on the seafront were affected, though Tony Martin stuck it out as long as he could with his Spartan. Sunday saw The Coats and Jeep, Dave McCoull and REO and myself from the MVT on the seafront, with The Jewitts and Land Rover braving the windy weather until the tide came in and started spraying us with sand and salt water. The Bispham party goers turned up for about 15 minutes just as the spray from the sea started to drench us. Sensibly we all left at that point, not wanting to get salt water on the vehicles. The few public we talked to were keen to have pictures taken, or simply wanted to vent their anger at Blackpool visitors (they were the hotel owners and we are good listeners). The pictures don't do justice to the winds that were keeping people at 45 degrees to the road. The News later reported that the winds were the strongest in the UK that day.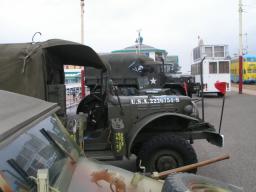 As part of National Veteran's Week our group was invited to St Bernadette's Primary School in Bispham. They were spending a week researching what it means to be a veteran or ex-Serviceman, and included talking to some ex-Servicemen. We were asked to provide some vehicles as a backdrop for a day, but then this expanded into us being asked to talk to the children in their classrooms. Ian and Esther and Steve and Susannah volunteered and provided a WW2 US Jeep and a Hotchkiss M201 with Milan missile launcher. When the day was explained to Steve and Susannah, they also provided a display of memorabilia and guns. As an extension of the Veteran's theme I invited Keith Maddocks along as an LDV (Local Defence Volunteer). Keith also provided some memorabilia and some more guns. Even I was persuaded to attend despite having no vehicle or memorabilia, but I did have a father who served in Burma, so I took him along instead. Being the nervous kind, I cleared the weaponry with the Police to ensure we would not be raided by armed Police. We were each given an itinerary of classes to speak to. I talked about the US Paratroops, and had my father talk about his experience in Burma and display Morse Code. Keith talked about the LDV and the role of non-Servicemen and women in the war effort. Ian and Esther showed the children around the Jeeps and the display area. Susannah explained about 40s fashion and the difficulties of life then, while Steve explained about the memorabilia and weapons. The local paper, the Evening Gazette featured the school event with a photo of some children on Steve and Susannah's M201 Milan launcher. Considering the ages were from 5 up to 11, there were some very well thought out questions that taxed the real veteran's memory, and re-enactor's imagination. We have already been asked back again next year. Despite initial nerves, we all enjoyed our time there but the final comment from Steve was that it was really tiring, a sentiment I think we all agreed with.
Layton Institute hosted an evening of entertainment on behalf of Veteran's Week. In doing so they raised over £7,000 for Combat Stress. Bob & Sandra, Tim & Christine, and Richard & Sheila went to support the show. (I think those were the names I was given.)
The Veteran's Parade on Friday was attended by thousands of veterans from all eras, and many current servicemen and women. They gathered near to North Pier and walked along the seafront towards The Tower then turned inland to disperse. They were watched by thousands of cheering and waving onlookers, while the Mayor of Blackpool took the salute. At the back of the marching veterans were the three vehicles representing the MVT, Ian McCormack and Paul Waterworth in their Jeeps and Dave McCoull with me as passenger in his REO. We had offered seats to 3 ex-servicemen, but one decided he could walk the route once he found out how far it was, and the two ex Monte Casino servicemen didn't show. We sat in the rain waiting for the parade to begin, but just before 5, the rain stopped and the parade continued in the dry. My highlight of the day was waving to Henry Allingham, the 112 year old WW1 veteran. Thanks to the 3 members for bringing their vehicles. Paul Waterworth has sent me a letter about the Parade that I think speaks for itself. Here it is with only mild editing.
"The veterans parade on Friday had an amazing turnout even with the bad weather. It seemed that all services were represented and quite a few WWII vets. Sadly on our side the turnout was appalling. Three vehicles and four members turned up which given the importance of this parade and also the debt we owe to these veterans this was a dreadful turnout. I think members should really think about this type of event as if not for these people we probably wouldn't be riding round in these military vehicles and perhaps we should examine just what we are doing with these vehicles/military history. A lot of the veterans and even serving soldiers were really interested in what we were doing and the vehicles we had and we should perhaps be more aware of this and put a bit more effort in what we do to keep this interest up. Perhaps if there had been a bar on site we would have had a few more members but fancy dress and boozing is not what this is all about. It is about doing our small part to support these service men and ex servicemen and I feel that if several thousand general public can stand about in the rain to watch this parade of several thousand servicemen and ex service men we could make a little bit more effort and it was really brought home by seeing lots of young and old ex servicemen in wheelchairs minus arms and legs. Can we not turn out to support people like this after what they have done for us? On the following day there was a smaller meeting in Wigan this was far better supported with MVT members and vehicles than the major Blackpool event. I don't think it is relevant to bang on about Julian Ms effort in the past, this is about the veterans and not about somebody's nose being pushed out by this clown. If we continue to not support important events like this sooner or later we are going to become totally forgotten and overlooked in the planning of these things and quite rightly so.

Paul Waterworth"
I leave it to you to comment and perhaps discuss at our future meetings.
Ingleton Operation Home Guard
The heavens opened again for yet another event. This time it was worse as it was organised by our own John and Elaine Ward. Saturday was worse than Sunday with hailstones the size of 10 pence pieces, but was made up for be the superb dance. I was told it was full and enjoyed by all, though some chose to eat at the Institute rather than the Falls Cafe, the location of the dance. I visited on Sunday to be greeted by rain again. It held off for the parade, but then opened up to drown everyone who was not sheltered. It was good to see Dave Eidsforth's Austin 16hp repainted in green to represent a British Army staff car. Dave Salisbury got to carry Churchill to his victory speech while Rupert had to make do with John Ward, one of the organisers. The battle to retake Ingleton from the Germans was not as hard as it was on the Saturday as many of the Germans went home because of the rain. Herr Flick got his come-uppence however. Despite the rain, there were still quite a few people who came to see what was going on, so hopefully the local businesses will be happy, and encourage John and Elaine to do the same next year.
John and Elaine put together the following report.
"Camp site a lot busier this year. Saturday set off dry, had time to set up before rain set in. Had a bar and marquee in the village square which was a good focal point. Everybody went under there when the rain started. To boost moral Elaine got in the back of the wagon and sang 40's tunes. Even the rain didn't stop us from dancing in the streets. The re-enactments went well both days and watched by a lot more people than anticipated. But I think the heroes of the weekend were the children from the middle school, just as they started to dance the rain came and I don't mean slight it thundered and threw it down, but they carried on and put all their efforts into it. The crowd were clapping and when they finished they got an almighty cheer, just brilliant. Dickie and Dennis were professional as ever, thoroughly enjoyed by everyone. Sat night- very very busy down at The Falls but a good time was had. The first tune came on and they were up dancing and that was it never sat down all night. The owners have apologised for the price of the food and has admitted she got it wrong, she was doing cafe prices. For next year we have booked the Community Centre for the dance and are looking into having a swing band....Watch this space..............
Sun set off rainy but faired up . We had a laying of a wreath in the morning and a lone piper played the lament. The parade happened before the rain and dejavu, when the Ovaltinies were due to go on the heavens opened again. But never fear in good old Brit style we took them into the old peoples home and they sang in there to the residents, there were smiles on their faces and they thanked them for coming in and for making them feel part of the weekend. We then took the Ovaltinies up to the Centre and they performed there, along with the Helen Howard school of dance can can girls, Brill, the tea dance then carried on. Elaine had one last thing to do, sing in the square which she did in between the showers. Great feed back loads of people. The weather never dampened our spirits, roll on July 4th & 5th 2009 John & Elaine"