Events (2008) pt 1
New Year run and meal
Denise arranged for us to go to the Longlands Hotel for a New Year's meal and associated run out. The southern contingent met at our regular meeting place of The Flag in Garstang and set off to meet up with the rest of the group on the A683. A total of 14 vehicles made it on the run, although Martin's Jeep went "bang" on the way to the hotel. He had to be towed by John Le Page's Jeep to the hotel, then home by Rupert Fox's Dodge. It turned out to be a break in the negative wire to the coil, so soon fixed and back on the road..
The meal was superb with all receiving their food hot and at the same time; well done the catering staff at Longlands. It was superb value at £11.95 for a 3 course meal.
Thanks to Ian McCormack for the Photos from the run, and Denise Jefferies for sorting out the venue for the meal.
I have now downloaded from my camera photos from the meal. Here they are.
Silverdale Easter "Bash Over the Bay"
Raising money for the Leeds Children's Home in Silverdale has gone from strength to strength. Our first meeting there raised about £35. Last time we were there we raised £1,160. Our aim this time was to raise more than that. Aided by £250 (I think) from the North West Collectors swear box, T-shirts from Rupert with the logo ""Bash Over the Bay '08" at £5 a piece, a raffle run by Tim and Christine and a cake baked by Rachel, we managed to raise £1452. From a vehicle perspective there were only a few turned up, 3 Jeeps, a Dodge Weapons carrier and a GMC. A road run was not arranged as the weather was not very predictable, and with only a few vehicles there would be a battle for spare seats. Some hardy souls came with tents, but the winds on Friday night forced them inside during the night, or on the Saturday. Caravans and camper vans were more resilient despite the pounding.
Following a lot of hard work by Bob and the team, the evening entertainment on the Saturday was provided by Ian Wray (Comedian and rock 'n' roll singing/dancing), Rupert/Matt/Dave as the Foggy Bottom Boys again. DJ was Tom Cat Le Tache whose equipment was linked into Bob's new Karaoke kit, so we had a number of volunteers to try out the new acquisition. Guest of honour were a number of the governors of the Leeds Children's Home who really enjoyed last September's bash so have returned for more.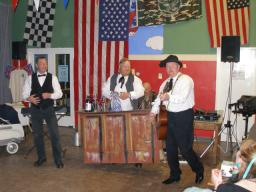 Well done Bob, Sandra and the team for all the effort involved in organising this.
Crich Tram Museum
Dave and Barry braved the weather to go and stay at Crich during the Tram Museum's twice yearly 40s event, this one being the Easter event which of course was a lot earlier than other years. I have been shown the photos that are available at http://picasaweb.google.co.uk/resnikov/CrichMarch2008 and it looked cold. Silverdale was cold, but at least there was a building to retire to, whereas Dave and Barry suffered waking up in several inches of snow. I have copied a few of the pictures here to give a flavour of the conditions, including one of Barry that would not look out of place in The Bulge (if only British Paratroopers were there).
Dave McCoull's film experience
It is probably a dream within you all to use your vehicles within the film and television industry. Images of Clint Eastwood, cigar in mouth, jumping out of your Jeep, or a GMC simply forming part of a convoy of troop carriers, but perhaps carrying Damian Lewis in Band of Brothers. Well occasionally those dreams come true, but not quite as you expect. Dave was contacted by Pete Cartner who had earlier been contacted by a TV crew that needed an all wheel drive vehicle to ferry equipment and crew around a field. Dave took up the challenge. Despite their request for all wheel drive, the REO only ever needed front wheel drive (in high ratio) to get out of the sandpit as the conditions were not too bad. The programme was being made at British Aerospace at Samlesbury and is apparently a Top Gear type of programme that will be shown on Channel 5 later this year (could be Fifth Gear I suppose?). A Nissan car was prepared with explosives and blown up, then dragged until the tyres burst then dropped into a sandpit near the M6 which is where Dave's REO was needed to take the camera crew etc to the bottom of the pit for filming. Finally the car was taken to a Breaker Yard and dropped onto concrete finally destroying it. The truck will not be seen unfortunately as it was only used as transport and so did not feature in its own right. Ah well, next time you might be luckier, Dave.
26th-27th April The plot thickens. Dave received a call to do some more work for the TV crew this time based at British Aerospace then onto Castle Cement at Clitheroe. This time the director wanted to include the REO in some shots. A camera was loaded into the cab while Dave drove around revealing the cars that were to be blown up. They spent around 2 hours filming in the cab and interviewing people leaning against the truck. They were long days apparently from 7:00 am to 7:00 pm, but was also paid well for his time. There was a lot of hanging around which seems to fit the general view of film work. The show is actually called Car Crash TV and will be shown sometime during May on Channel 5, so watch out for it. The presenter is a comedian called Rufus Hound.