Events (2007) pt 1
Middleton Civic Centre - New Year's Eve
A return to the 1940s welcomed in 2007 for the revelers at Middleton Civic Centre. Organised by Joyce and Peter Cartner, ably assisted by Stella and Ian Bailey, GI Jive and Big Boy Bloater & the South Side Stompers provided a driven evening of jump & jive and swing & soul.
Orders for the day were "Bring your own food" but Christine and Tim, determined to re-enact the Berlin airlift, had provided food for a small army, all of which was gratefully received. Tina and Kenny provided Champagne to ensure that midnight came with a bang and that we could drink a toast to Kenny's safe return from his imminent tour of duty in Iraq.
An excellent way to bring in the New Year. Happy New Year to all from Ian and Esther.
New Year Meal
6th January saw about 35 members and their partners and offspring gather for a lunchtime meal at The Miller Arms in Singleton. Prior to the meal, a convoy was organised for those coming from further afield, setting off from our usual meeting place of The Flag. There were 6 military vehicles and Dave Eidsforth and family in his Austin. We arrived to find the doors closed, but as soon as the chef saw us arrive he opened up the doors. The food was superb and the company excellent. Several die-hards stayed for a couple of drinks afterwards. I have posted some pictures copied from Martin Russell's website. (I must graft my camera to my side so I don't forget it.) They show the crossing of Cartford Bridge (I wonder if Dave got away with only paying 40p for his Bowser), the gathering at The Miller Arms with Dave's Austin in the background, and finally the reprobates who ended up in the bar after the meal. Thanks to Martin and Denise Russell for organising the meal.
Silverdale - Easter Bank Holiday
A good turn out made the Easter Bank Holiday Crank up at Silverdale Leeds Children's Home a superb weekend. Early arrivals were there from Thursday onwards, but most turned up on the Friday. In all about a dozen vehicles stayed the weekend with many more calling in for a day visit. Guests from the North West Area (Pete, Joyce, Ian and Stella) stayed the full weekend. This year we had use of the building itself including all the facilities, kitchen, showers, dormitories, and main hall. Some hardy soles still wanted to camp outside and did on Friday night, but retreated to the comfort of the dorms for Saturday night. Stuart was able to go home for additional quilts for his kids as he lives down the road in Arnside. On Friday we made our own entertainment with a Karaoke machine provided as part of the facilities. I managed to get it going and cued in the singers. Martin's electronic wizardry enabled tracks from his MP3 player to play through the receiver on the Karaoke unit, so for some a dance was quickly arranged. Simon was taught how to fasten his boot laces, and here he can be seen practicing the art.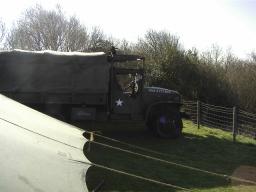 A run out to Carnforth station had been pre-arranged so that we could park the smaller vehicles on the platform itself. Larger vehicles had to wait outside. Paul Lomax came for a day visit, so I scrounged a lift with him. Other non-vehicle owners, or those who preferred not to drive, did likewise. Dave met us there with his REO. The meeting attracted a few "groupies" from the Home Guard re-enactors who have taken to following us to events (granted they are MVT members as well but I've got to have some fun in writing this.). They tell me we seem to have such a good time and they are always made to feel welcome that they are keen to join us. They have even started recruiting within our ranks with Max having already built up an EL regiment (East Lancashire) which Rupert is considering joining. Our groupies are considering switching from the Pontefract unit to the EL unit.
Saturday night entertainment was at the Woodlands Hotel, a small venue but stocking excellent real ales, and providing a small dance area and facilities for John (Elvis) and Elaine Ward to perform some songs. Our own Homefront Tommy (Mike Roberts) provided a mix of well known and obscure music from the 30s and 40s throughout the evening.
Again, facilities at Holgates Caravan site were used for food and a swim. Most of us packed up and left on Sunday, but I understand Ian & Esther and Richard & Sheila stayed until the Monday. Thanks Bob for organising the meet, and providing the mark II wood burner. I look forward to next time we are there.
Haworth 40s weekend
Fewer people from our group attended this event this year. Those that did tended to be there for the social rather than to display their vehicles. Exceptions were Dennis with his GMC and Chris and Andy with their Jeeps. The weather was not too good on Saturday but improved on Sunday. Of course the FA Cup final attracted some of our group to one of the pubs for most of Saturday afternoon. They tell me it was hard work, but believe what you want. I went out in the rain and got wet rather than glue myself to the telly.
Pete Morgan organised digs in the Westfield Lodge Bunkhouse just outside Haworth for those that wanted to stay. He also organised a bottle of Famous Grouse that we were supposed to see the end of, but we failed miserably. Thanks Pete. Pete enjoyed his weekend as an MP joining some American SPs arresting soldiers who were getting up to no good with some of the locals.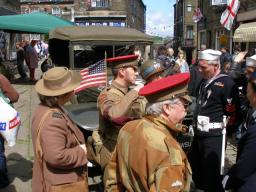 There were some interesting vehicle displays, with Simon Johnson (editor of The Greensheet - the MVT vehicle sales sheet) displaying his James motorcycle on the bonnet of his Jeep as done during wartime. There were a few other motor bikes there including a trio of BSAs, two of which are shown here.
There were also some unusual side shows featuring trailers of various types, but with the same theme. It seemed food must have been on everyone's mind when planning to come to Haworth as the kitchen units seemed to sprout all over the place, both German and American. Others, including a Chevrolet just looked for shelter from the rain.
ELR 40s Weekend
Well Neil and the ELR crew managed to pull it off again with a bigger and better event than last year. This year the main military vehicle camp was based at Irwell Vale and wasn't it a belter of a site. The village is easily reached via the ELR train to its own station. The village Association had been working since June last year to get the village green turned from a quagmire into a well turned out green ready to accept the "invasion force" that was to be the Allied mustering point. It was prepared by Tony Lee and friends to look like a meeting point at a French crossroads. One of the dioramas was of Henry Litowski's field hospital and Jeep marked with a red cross. I'm not sure a watercooled Vickers machine gun would have been mounted on such a vehicle, but I suppose if business is light, you can always create some patients of your own. A field was available at the entrance to The Burrs and one or two of our group made use of that facility. It is closer to Bury, the centre of the weekend's activities, so it does have a benefit. Irwell Vale entertained the troops with a barbeque on Saturday night that was well attended by the re-enactors who stayed there, and the locals. It started t look like rain so Dave and Barry sensibly put the roofs on their Jeeps. Unfortunately as the night went on, it turned colder (see the photo of our group mostly in greatcoats), but the bonfire that was lit soon after the barbeque was finished helped warm us up. The rain held off for most of the evening, but during the night it poured down.
The North West Military Collectors Association provided the battles on all three days, entertaining the crowds with some of the longest and most intense blank firing I have come across. They did not seem to be plagued by jamming weapons that has spoilt the scenarios in the past, and had a Jeep with a machine gun mounted on the back for the Allies, while the Germans had a motorcycle and sidecar. They are a team worth seeing. Unfortunately I was plagued with difficulties with my new camera that seemed to be consuming batteries at an alarming rate, so I didn't have enough charge left to take any photos. If anyone wants to send me some (Martin/Sue I know you took some) I'll post them on here.
We were entertained by a flypast of the Battle of Britain Memorial Flight's Lancaster bomber. What a site that was as it banked over Bury, though I only caught a fleeting glimpse of it.
Entertainment was provided for the full three days with, amongst others, Paul Harper singing at various locations throughout the weekend, displays of swing dance, and local brass bands playing. The convoy on Sunday set off from outside Ramsbottom and ended up at Rawtenstall. It was not a large convoy but comprised a few larger trucks including from our group Richard's Mack, Dave's REO, together with a number of Jeeps including Pete's in which I rode shotgun.
A great weekend and I look forward to next year.
Skipton Gala
Dave McCoull went to the Skipton Gala on 9th June. Here is his report. "The Deuce and I attended Skipton Gala on 9th June. It was a scorching hot day, so I drove there with the cab top off. It was good to get fresh air, but too hot when stopping at traffic lights etc. The procession went right through the town centre which was jam packed with spectators, and finished in Airville park, where judging took place. As mine was the only military vehicle there I was judged with the commercials. I was talking to the judge earlier and he told me he used to drive REOs in the early 60s when they first started the motorways. They were used for taking the tree stumps away and were well on top of the job. He also loved the sound of it pulling up the hill onto the show field. He gave me third prize, though I suppose he was a bit biased. All in all a good day.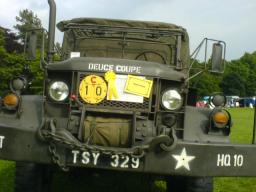 Morecambe Walk
Dave also went on the walk across Morecambe Bay. Here is his report. "On Sunday 10th June I did the Bay walk with the home guard, Max, George, and Roger. It went from Hest bank to Humphrey Head, about 8.5 miles. Again it was another red hot day. There were about 150 from various groups on the walk. When we got to where the cockle pickers came to grief, we had 5minutes remembrance. There's a white cross in the sand and a Land Rover they had been using, but all you can see is the dash, steering wheel and gear stick. It took about 4 hours to cross, and coaches were waiting to take us back to Hest Bank. George to took some pictures, but hasn't gone digital yet! Full marks to George for organising the day.
Hornby Castle
Good weather made this, the first of our group's events, a great weekend. The field was full of military vehicles that included the regular Jeeps and Dodges, but also some surprises. The Allsop brothers brought their Half Track, though it was only by good negotiation with one of their wives that they were able to keep it. Allegedly bought on the QT that caused a near divorce, but when the increase in value over what was paid was explained, peace reigned again. Tony Martin brought a Spartan Armoured troop carrier, a vehicle still in service with the British Army. How he got hold of it I'm not sure, but he does like to collect armoured vehicles. A number of Eastern European vehicles were represented by a couple of Gazs and a Trabant. The weekend started on the Friday night with a barbecue put on by Frank and Angela Brown. From what I hear, there was more food than they knew what to do with, and it was reported to be excellent. There was a convoy/road run on both Saturday and Sunday, Saturday's being the largest, both with a Police escort. The public came in to look around on both days, helping to pay for the event to be staged. The dance was held in the village Institute where we were entertained by an 18 piece swing band, and meat & potato or cheese & onion pie supper provided by Paul Higginson. The North West Collectors Association gave a good battle display on the Sunday with the Americans and Free French beating the Germans again. There was a lady sitting close to me who was being sprayed with empty cartridges from the German machine gunner, such is the power when they are ejected.
A separate page containing photos and some video from the battle can be found here. Rumour has it the event will be on next year, a fact that will please many people, including a couple who came from the North East (no names to protect the innocent) to Hornby rather than go to an event in their home county. Such is the attraction. Pictures were provided by myself (Paul Higgins), Mark Greenall and Henry Lisowski.