Events (2006) pt 4
Silverdale
August Bank Holiday weekend promised to be wet and windy. Well, windy it certainly was but thankfully the rain only appeared sporadically. This meant plenty of sitting in the open taking in the scenery and having a chat amongst friends. Bob's heater Mk1 had an airing and kept the campsite warm for the full weekend. It also doubled as a cooker such was the heat it put out, with Steve providing a constant supply of bacon cooked in foil, and hotdogs cooked in the tin.
"Love is in the air", was the title of a song some years ago, but at Silverdale this should have been "Love is in the Haunted House" as Simon and Rupert danced the night away on the Saturday night. The ladies were a little more refined by dancing the stroll. Entertainment was supplied by Hepcat Mike and Elaine & John Ward. The locals loved it and gave a standing ovation (well they had to, we had pinched all the seats). The evening was one of the best I've been to in a long while (I even had a dance), though I do lead a sheltered life.
The weekend was a social success with one or two day visitors calling in to see us, when we could be found. The Leeds Children's home is opposite Holgates Caravan Park and their facilities were available for us to use including the swimming pool and bar/cafe, so we did.
Horham Air Base
Earlier in the year, Ian and Esther visited America where they flew in a B17 Flying Fortress bomber, which was painted as "Nine O Nine"; the B17 that had flown the highest number of missions without turning back for mechanical reasons. They also had a tour of USS Intrepid, an aircraft carrier veteran of WWII in the Pacific.
On their return to the UK, they decided that as they depict members of the 95th Bomb Group, they ought to visit the airbase at Horham in Suffolk where the group were based. A heritage group has restored the Red Feather Club and made Ian and Esther most welcome, showing them their extensive collection of photographs and artifacts. Amongst these were pictures of the B17 "Screamin' Eagle" – Ian and Esther's adopted B17 – proving that it did fly with the 95th. (The link here is that Ian and Esther's Jeep is named "Screamin' Eagle" – Webmaster)
They also visited the restored air base hospital and actually stood on the runway from which all those missions were flown over sixty years ago. A truly nostalgic trip.
Wind-down at Rawcliffe Hall
The final event of the year for some of us was held at Rawcliffe Hall on 22 - 24 September. This was a very informal gathering, but we were allowed use of the Rawcliffe Hall bar and entertainments including the Karaoke. As at Silverdale, I understand John entertained with a number of Elvis songs on the Friday night. Friday saw eight or so turn up and pitch camp. Others arrived on Saturday, some to sat and others just visiting for the day. Unfortunately, other than an hour or two on Friday, I missed the weekend due to an infected leg causing fluctuations in my temperature that confined me to bed for all of Saturday. I understand those that turned up had a great time, and I hope some photos were taken so I can include them. Thanks to Dave Bagot and the Rawcliffe Hall crew for allowing us to use their facilities yet again.
Roll-on 2007.
Pickering
Ian provided a report on his and Esther's visit to Pickering. "In October, North Yorks Moor Railway hosted its annual 1940s weekend. As one of the very popular 40s events, the town was packed with period vehicles and re-enactors. The main parade in Pickering boasted a magnificent turnout of vehicles, re-enactors and spectators, all combining to provide an electric atmosphere through the center of the town.
The premier event on the Saturday evening was enjoyed by the majority of people who attended, in spite of teething troubles. The Memphis Belle Orchestra and GI Jive were, as ever, well received. The size of the new venue enabled military vehicles to be driven in to provide a suitable backdrop for the event. Ian and Esther took full advantage of this so the Screamin' Eagle jeep was parked five yards from their table.
Sunday's parade and memorial service at Grossmont provided a somber reminder of the sacrifices that people who lived in the 1940s made. An enjoyable and emotive weekend."
Longridge School WW2 display
Steve, Dave and Ian provided a display of WW2 memorabilia to Longridge School on Friday 17th November. Ian provided the following report:
"On November 17th, Dave Eidsforth, Steve Rossall, and Ian Wray visited Berry Lane Primary School in Longridge., where World War II is part of the curriculum.
Steve and Dave put up a 12' X 12' tent and displayed their magnificent collection of 40s memorabilia - Ian represented the Americans turning up late.
The display, vehicles and uniforms attracted plenty of questions from both children and teachers, and there was a lot of very positive feedback.
The educational aspect is surely, in part, what the MVT is all about."
Remembrance Day
The group attended an number of different fund raising locations for the Royal British Legion over the Remembrance weekend. As an example, Rupert, Simon, Phil and Martin posted themselves outside Aldi in Kendal to aid the collection.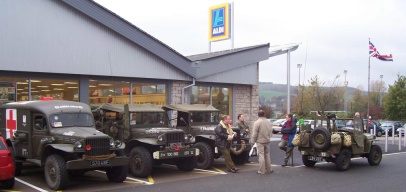 Others gathered at locations around Preston over two days. Barry, 2 Daves, Dennis, to name a few, who met up with members of the West Lancs area to swell the numbers and help collect for this worthy cause..