Events (2006) pt 1
40s Dance at the Fulwood Conservative club
March 18th saw the first gathering of our part of our group for an organised social. West Lancs group made up a large part of the numbers. Dave Salisbury booked the Fulwood Conservative club for a 40s dance that featured Jon, Barry and Martin singing a range of Lancashire based folk songs, and Hep Cat Mike providing the swing music. Food was plentiful (it was a Jacob's feast) and everyone who attended seemed to enjoy themselves.
Crank Up event - Silverdale
The Easter weekend saw our now regular crank up meeting gather at the Leeds Children's Home in Silverdale. A few die-hards camped for the weekend with Simon and his newly acquired Dodge Weapons Carrier seeing the light of day, Rupert's Weapons Carrier, Bob's Jimmy, Phil Russell's Dodge Ambulance and Martin Russell's Jeep being the weekend stalwarts. A number of day trippers arrived to show their faces, including Ian and Esther in their Jeep. I visited for the day but on my Yamaha motorbike, not quite fitting transport for an MVT meet, but it was fun riding around the country lanes near Silverdale. Geoff risked being pillion.
Hep Cat Mike arrived and was to set up his music in the "Haunted House" pub on the Saturday night, the same pub also being the venue for Friday night's elbow exercises. I need to get an update for the Sunday and find out if any other visitors arrived. Also anyone with photos of the weekend, send them to me and I'll post them here.
Crank Up Weekend at Silverdale, Cumbria.(From Martin Russell)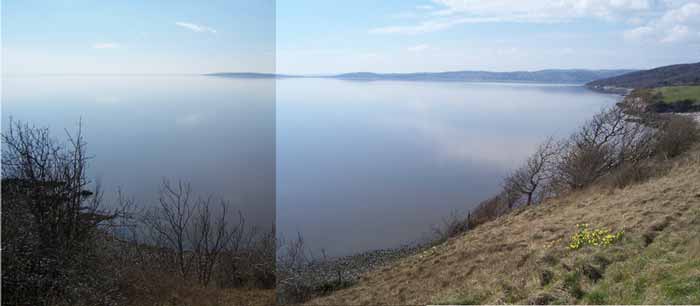 What a fantastic, quiet site for the crank up weekend. Round the back of Leeds Children's home at Silverdale Cumbria, over looking the high cliffs to Morecambe bay below. Saturday , the sun was hot, the water still as a mill pond. So it was a god send after Martin and Philip Russell put up their tent with large dining shelter for some shade. Simon's first outing with his Dodge WC51, everything ran smoothly. Rupert with his WC51, Phil with WC54 Ambulance, Martin '42 Willys, Steve with his Milan Hotchkiss, Bob and Sandra with their Jimmy, which was very tight round the country lanes. Hep Cat Mike did us proud again with a great night at the Woodlands Hotel, with dancing from the 40's Pan's People, and who can forget, Simon and Roops cutting a rug.....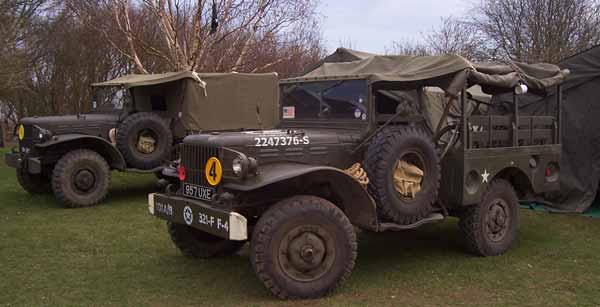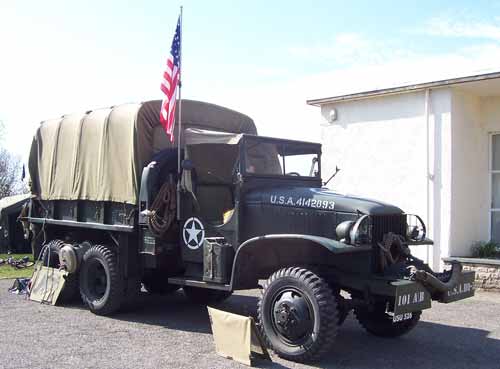 Simon's and Roops's Dodge WC51s' Bob and Sandra's GMC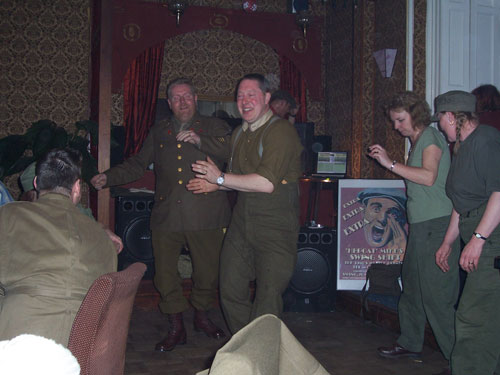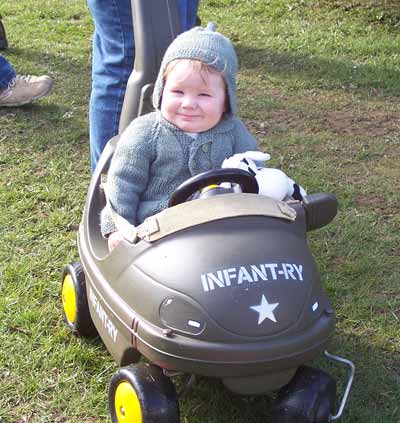 Roops and Simon cut, or trample, a rug together, with Liz and Sandra doing The Stroll... Lily Fox in her new MV 4x4....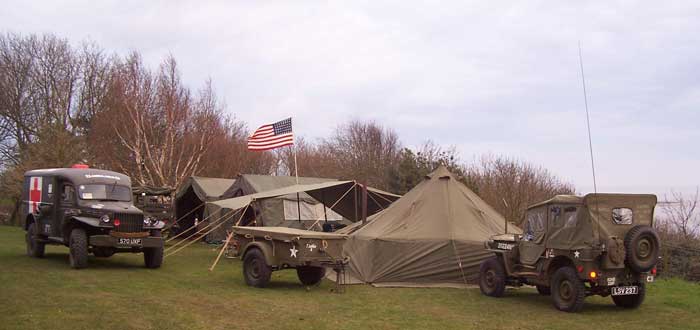 (MR 20-4-06)
(Webmaster's note - Send me a report and photos I said, not hack in and post your own report!!!! I get easily confused if odd things happen!!! That's why the presentation is different to normal.)
Crich "Battle of Britain Weekend"
John Le Page has sent the following report on the Crich event also held over the Easter weekend.
" Battle of Britain" weekend at Crich Tramway Museum, Derbyshire 15/16/17 April
Barry and I set off at about 5.45 am (yes 5.45am!!) to meet Dave at his house in Preston for a 6.45 am start.
The weather was fine but as we approached Manchester it had to rain and we had frequent showers all the way around the motorway until we stopped for a MacDonald's breakfast bun just outside Stockport. This was a good test for our new all weather gear for the Jeeps which performed brilliantly.
From there on down the A6 it was glorious driving all the way with great scenery and quiet roads - a real joy to be out!!
We arrived at the museum by about 10.45 am and were met by the lady in charge who was really pleasant and helpful, actually walking us around the various camping areas to choose the one we wanted.
The site is super. It's a working tram museum with a rebuilt 'Main Street' of cobbles and buildings brought in from elsewhere and re-erected. It works very well and very quickly it all took on a realistic 40's atmosphere with the arrival of various re-enactors, the tramway people in their uniforms and those like ourselves who had vehicles and were dressed appropriately. The programme for the w/e was simple - we had the freedom to come and go in our vehicles up and down the street, park up and generally do what we liked. (One of the re-enactors coined a phrase " We are the walking wallpaper") As luck would have it the main parking spaces were right outside the pub ( which sold the local real ale straight from the barrel at the back of the bar ). There were various scenarios being played out, the local chap of note who was forming the Home Guard (LDV then) unit and giving a pep talk to a bunch of men dressed in a variety of costume from suited bank managers to farm labourers all armed with an array of "weapons" including a stick with a kitchen knife tied to it and a hay fork with daffodil spiked on the prong!
We were asked to form a body guard for Winston Churchill who was to make a speech in the town square and drive up and down the street in a period Rolls. This gave Dave the chance to use his siren (as if he ever needs one!!) much to the annoyance of the chap with his horse and cart who threatened to do something surgically obtuse with the offending article if he did it again. (Dave claims he was only following orders.) Tempers defused we carried on.
The public came in large numbers but we were never in a crowd and it was safe to leave the Jeeps unattended and open without people jumping in and out or poking at things.
On the Saturday, having set up the camp and found our way round, we went out for petrol and stopped at a local wayside hostelry (as you do) Unfortunately it was only selling really good Marston's Pedigree, so we were forced to stay and have lunch - Hey Ho!!
Having purchased a second tent the week before we set it up for the first time in front of our sleeping tent and used it as a dining/cooking shelter. This is a very good combination and keeps off the elements all round.
There was an ENSA show on Sunday night but I have to say that "Every Night Something Awful" was never more true and we didn't stay too long, retiring to the pub and then a late night tram ride (Whoppeee!!)
Monday brought a mixture of heavy showers and sunny periods so we set to breaking the camp steadily and packing up to leave at about 2.30pm. We hit heavy traffic outside Matlock and Buxton but other than that we had a good run home.
All in all a super weekend and one we can recommend to all. It's a good site and the event makes you really part of it.
Dave adds "It was very pleasant to meet the other Mr and Mrs Newbold at Critch, Oly And Dawn, who came over from Mansfield, then Barry's daughter and husband arrived with Rocky who had a great time on the trams".