Events (2005) pt 4
Blackpool Remembers
June and July 2005 saw much activity around Blackpool with various events to commemorate VE/VJ Day. The largest event happened on the weekend of 2/3 July on Lawson's Field. Vehicles from all over joined our group to form a number of fairly large displays of historic military vehicles. We had a display of historic military equipment together with mainly British vehicles at one end of the field, and a camp with mainly American vehicles at the opposite end of the field. The present day army was present, bringing a Challenger II tank onto the field (hats off to the driver of the Oshkosh transporter for actually managing to swing the vehicle onto the filed through a comparatively narrow gate. Such is the size of the transporter, we set up a picture of Richard's Mack parked against the Oshkosh. The Mack was dwarfed, which is surprising when the size of the Mack is judged on its own.
Many of us spent Saturday night in the Theatre Bar in the Queens Hotel in Blackpool where the host provided a mixed, but partly 40s themed show. Rupert acted as taxi driver in his Dodge Weapons Carrier. This caused a few folk to turn their heads as we drove along the promenade. During the show, we were invited up to the stage during the show and then behind the scenes to meet the host, Joe Wiley, and his singers.
The following day we were joined by Andy with his Abbot tank. I got the chance to talk too him to see if he remembered taking my son and 4 of his friends to their end of school party. He did. While others used stretched limos, and horse and carriages, my son used a tank.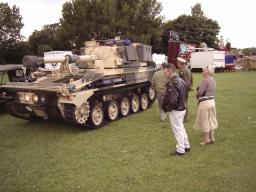 The event attracted about 15,000 visitors on Saturday and 30,000 on Sunday (according to Police estimates). I think it could be classed as a success.
The following Saturday a display of military vehicles both old and new was held on Blackpool promenade, and on Sunday a memorial service was held at the Cenotaph. Our group was present on both days and survived providing answers to questions about the vehicles to both old and young in the scorching heat of Blackpool at its best.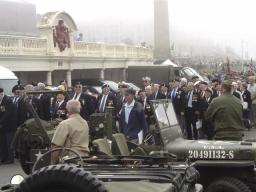 Rawcliffe Hall Salute to the 40s
Back to something like the old form, our group helped organise the Salute to the 40s event at Rawcliffe Hall, the site of what was growing into one of the biggest events in the North West. This year we managed probably 35 vehicles on site, with 28 of them taking part in the convoy via The Flag at Garstang. The event was hosted by Rawcliffe Hall who provided entertainment and refreshment in a large marquee on both the Friday and Saturday.
Friday night entertainment for the early arrivals was provided by HepCat Mike with his Swing Shift music show, and followed by Karaoke for those who fancied their singing talents.
On the Saturday a convoy set off from the site to The Flag on the A6 where we had organised butties and chips for 40. However numbers were exceeded, with 55 hungry mouths to feed, Julie and Steve had to push their chef into rustling up more food. My apologies to those who had to wait for the food, but estimating is a very inexact science as I can testify to, and apologies to Julie and Steve for the pressure I put them under to try to get more food out. Thanks to Keith and John on their Harley and BSA motorcycles for acting as escorts and holding up traffic as required. The car park was big enough to hold all the vehicles and caused quite an attraction to passing motorists, so we may repeat this next year. The drive was mainly through the farmlands of Over Wyre and seemed to have been enjoyed by most of those taking part. Back at the site, Jive dance lessons were available for those not going on the convoy. Saturday night saw a variety of very good entertainment; how the xylophone players managed to keep up with each other, I'll never know.
On Sunday, our group organised a Jeep balancing contest, won this year by Geoff Brogden with the quickest time, and with last year's winner Tim Holland coming third. No-one managed to balance their Jeep for the necessary 3 seconds, so maybe this needs to be made a little easier next year. Later on in the day, vehicles were displayed around the arena for the public to see. A special for the kids who stay at the Rawcliffe Hall caravan park, and those with the vehicles, was a Street Party to remind them what happened 60 years ago on VE Day. Thanks to Rawcliffe Hall who I think provided the food for free to the children.
The current views of the organisers is that the event will be on next year, but the date will carefully selected to try to avoid clashing with other events such as the War and Peace Show (plans are already being made for a large contingent from our group to go to Kent for this show next year).
Millom
RAF Millom in Cumbria held it's first weekend event at which Military Vehicles were specifically invited. There had been much publicity for this event at other events in the North West, led mainly by Russell Brown of the Lancashire Aircraft Investigation Team (see http://web.ukonline.co.uk/lait/site/). Russell seemed to be everywhere I went during the past few months. Reports I have received indicated that the event was very good, made better by an invitation to some of our members to join Kompanie 1 for the re-enactment battle on the American side. See pictures below. The downside to the event were a number of accidents happening to our members; Christine McGuire fell out of the back of Tim's Chevrolet dump truck, breaking both arms, Rupert Fox injured his hand during the re-enactment, and Martin Russell jarred his bad knee. I always thought camping was a safe lei surely activity; it must be something to do with the military side of the hobby that causes the problems.
Rupert Fox provided the following description and photographs. "A Kompanie 1 shortage of allies meant they asked me and Martin if we'd like to take part in the battles to make up the numbers as 'cannon fodder'. We jumped at the chance and offered to use our vehicles, to which they jumped at the chance! The upshot was we took part in Saturday's & Sunday's battles with Martin having his deact 30cal on the Jeep mount replaced with a fully functional .30 firing blanks, a gunner and about 500 rounds! Boy was he smiling at the end of it! Aside from the injuries it was a very good weekend and an admirable first attempt at what they hope will be an annual event." I hope so too, and I hope to be at it next year.
John Le Page sent this other view of the event together with a couple of photos. "Millom was interesting. The site is an airfield and is huge. It is also very windy - all the time as is confirmed by the wind farm built upon it!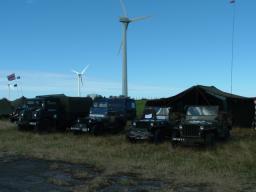 Barry, Dave and I had a pleasant drive up through the Cumbria countryside and arrived at the museum to be greeted with tea. Very nice.

We then went on to the site where Simon had already set up and saved a space for us, not that space was in short supply!!

Setting up the tent was interesting in the wind, we had to use extra storm guys to hold the thing down long enough to get some pegs in!

Having got set up things were fine. However, there was no water supply on the site and we had to drive all the way down to the museum to get it from a hosepipe they'd set up. This, in my opinion is inexcusable. You cannot have a show of this kind where people are asked to come and display vehicles (or anything else) and camp - and then not have water easily available.

Another omission on site was the beer tent. Again there were places to go off site but the site itself was so big that it was a serious walk to the gate!. I felt that it was all too spread out as we were in an area next to the re-enactment site which was fine but then stalls and side shows etc were a long way off down the track. It seems that because they had so much room, they wanted to use it all instead of planning the site.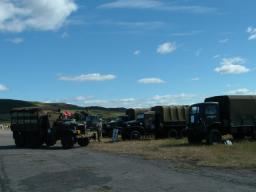 On the plus side the toilets were there in abundance and regularly serviced. Well done!!

The Saturday road run was good. We went through the town with lots of people turning out to see the convoy. We ended up at the holiday village where Lou Evans swam his Luaz and gave people rides on the lake.

The dance on Saturday was a bit of a non-event. The only people there in forties gear were from our group and there wasn't much dancing. The band in my opinion was average and worked hard trying to get folk to dance with little response and when they insisted that everyone get up and start marching to their music it just about killed the night. We went on to the Prison Officers' Cub where Hepcat Mike was performing but there was precious little action there when we arrived. Possibly people didn't want to leave the site to go to the events as it was some distance.

On Sunday as we packed up, Simon's tent got away from him and was bowled over by the wind sending poles all over the place. We left the site and drove to Torver, Coniston and Ambleside, finally stopping at Stavely where the local pub were doing a barbecue so we had our tea there. Overall, a pleasant w/e but they've got some things to think about if it is to become a regular event. They talk of it becoming a northern Beltring but with the motorway and ports so far away and the narrowness of the approach roads combined with the long, steep hills en route I don't see how it can. Just ask Chris and John how they got on delivering the tanks on their low loader!!"
This concern with the roads and hills approaching the site has been echoed by Tim Holland who had to keep his Chevy dump truck in 3rd gear to manage the hills, and that is in a vehicle fitted with a non standard 5 speed box. Worse still Martin had to use first gear to get up the three approach hills, with a queue of 32 cars behind him at one point, though one brave sole driving a Volvo towing a caravan overtook Martin. How embarrassing.
Martin added the following comments on the event. "The staff and event organisers made us feel very welcome indeed, to the point of a security guard for Rupert's Dodge "Taxi" on Saturday's night "grab a granny" dance. The prison officers club was great with Mike doing his stuff, beer cheapish, again Rupert did his uppermost, and ferried us all to the club and back, on Friday and Saturday nights, what a star. Firework display was incredible, no expense spared at all." A P51 Mustang took part in the re-enactment, strafing the German position. A final comment about the field "Ok, it was very windy, water was a hell of a treck away, and that was because the daft farmer refused them a stand pipe, but I never felt unsafe for our belongings all weekend. We could have been bunched up a bit more, but this was the first event they had put on, a small team, a small town, out on a limb. They did incredibly well with what they had. Injuries apart, and get well soon Christine, I'll go again, will try for a coast road next time...." The photographs from Martin show the scenery and the atmosphere generated during the re-enactment
A final account of the Millom event comes from Russell Brown, a member of the Lancashire Aircraft Investigation team, who were supporting the RAF museum in staging this event, and who was seen for months before the event, walking around any military event going trying to publicise the event.
"Because it's the first one the RAF Millom Museum has done, there was naturally some chaos, but we pulled through. Yours truly, thoroughly enjoying himself after weeks of giving out Operation Bombard leaflets dressed as Tommy Atkins in rural backwater railway stations, blanks and car alarms going off, or stuck in some Morecambe Guesthouse again on the Bombard leaflet dropping front. I had obtained a Second World War BSA bicycle, complete with blackout stripe on mudguard, and dressed as a Brylcreem boy, cycled up and down the road around the peri track, dishing out info and trying to remain useful. An example of the chaos was when I was suddenly asked to do the airshow commentary for the Hawker Sea Fury and a P-51 Mustang, add lib..."Er, it's a plane, ummm. Yes. There were lot's of em' at one time..." The following day the timetable changed and I missed the chance to commentate when the P-51 arrived at its original time without warning. I was back at the Museum, when I heard it whizz over and start strafing the Jerries! You've never seen someone pedal so fast on a World War Two bicycle up an airfield!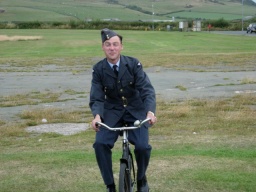 I was somewhat surprised to find myself confronting, on the Friday night, the almighty sight of a Tiger tank. As I looked at the silent, rugged, steel monster, the realisation hit me of how frightening this must have looked to many a British and Yankee Sherman crew as this thing appeared; if you even saw it, that is. Yet, this one turned out to be a fake; a Russian tank, with a Tiger body welded over it. Mind you, it looked convincing, as it did when it appeared in the now celebrated war film "Saving Private Ryan" in the final, dramatic, moving minutes. And all here, at an aerodrome; had the RAF personnel envisaged this on their aerodrome in the real war years they would have been a little surprised, as was pointed out to me by one of our members.
I was surprised at the numbers of public pouring into the aerodrome; where did they all come from? Were there going to be enough? What about t'weather? (I'm from Lancashire remember...) We had rain for a few brief and merciful minutes, before the show opened. This is what can make or break an outdoor event. I am told that the Museum made a loss (which I knew they would do), though they reckon with the lottery money, they can survive this.
People seemed to leave happy when it was all over after a second long day. I overheard a German Waffen SS type with a Brummie accent, muttering about some of his mates who said they'd turn up and didn't...they had missed a truly good do, as far as re-enactors are concerned. The regular army, TA and the ATC were present, along with suitable hardware. The Red Devils were bang on target. I've never seen so many people outside the museum, and the drumhead service that dedicated the two Pratt and Whitney engines recovered from the wrecks of two A-26 Invader bombers (screened on Time Team in January of this year) was very good apparently. The event was well attended by MVT personnel and ex-servicemen and women (not vets as they are not James Herriott..! Some ex-servicemen hate this Americanism)."
I have since been told that plans are well underway to securing the necessary facilities to repeat the event in 2006. Finally, does ownership of a wartime BSA cycle qualify Russell for membership of the MVT? I'll have to check the rules.