Events (2005) pt 3
Chipping Steam Fair
Steve Barton-Rossall provided the following report "Bank holiday weekend found a number of the club members at Chipping Steam Fair, namely Dave, Steve, & Phil with their respective wives and children, plus Simon with nephew Hayden. Of course we mustn't forget Toby the dog. We all arrived on Friday, which was a lovely day, but there had been a lot of rain during the week & parts of the field were a bit boggy to say the least! Simon was called on a time or two to rescue unfortunates who hadn't made it through the mire. Despite masses of cloud & what felt like a force 10 gale on Saturday, the weather stayed fine, & on Sunday & Monday really came into its own with lots of sunshine to bring in the crowds. Our various displays proved extremely popular, especially with the younger element, who all seem to be doing projects on WW2 for obvious reasons, & lots of questions were asked, gun-sights looked down, gas masks tried & photos taken.
Evenings were spent seeing who could sit closest to the camp stove, especially on Friday & Saturday nights, which were a little chilly. In fact, Phil bought himself a little something to keep him warm during the wee small hours ---- a very attractive wood-burning stove!!!
A very successful weekend, & we're all looking forward to Myerscough Show next week."
The usefulness of the stoves can be seen in the picture below as our Summer seems to have deserted us and left us with almost wintry nights.
Myerscough Agricultural College
Steve Barton-Rossall also provided this report. "The first weekend in June saw Steve, Dave & Paul & their respective wives & families at Myerscough College for the North West Vintage Machinery Club Rally & Country Event, that takes place each year in conjunction with the College Open Day. Dave & Joanne brought the Austin K9 & the Champ, Paul & Elaine arrived with the Kettenkrad & Steve & Susannah brought the Bedford MWR. Tony, who had transported the Kettenkrad on Friday evening & then left, returned on Sunday with his WW2 Gaz. Saturday was fairly quiet on the visitor front, but Sunday was much busier & lovely weather to boot!! The Kettenkrad generated a lot of interest, as befits such an unusual machine; there were lots of visitors to Dave & Joanne's WW2 display, & many & varied questions were asked by the young & not so young. Steve decided to do a theme & constructed a Bren gun 'nest' (This had been perfected in the dining room the previous week, much to Susannah's delight(?!!*?) ) & this proved very popular with the younger element at the show. Barry & his wife Sue visited in the afternoon, along with Martin. This show is probably one of the smallest that we do, but it is very friendly & 'laid back'; very good if you want a chilled–out weekend!"
Bolton-by-Bowland school
Joanne Eidsforth provided the following report.
On Thursday 9th June Steve, with his Bedford MWR, and David, with his Austin K9 Radio truck and trailer, visited Bolton-by-Bowland C.E. Primary School, where they were holding an open day based on the VE day celebrations. (Susannah was unable to come as planned, due to a Family Bereavement.) They parked up in the school playground and set up the display of World War 2 memorabilia in the tent on the school field.
It was a gorgeous day with the sun shining. The children went out to visit the display and vehicles in small groups. The fist group of 4 and 5 year olds were a little reticent at first, but with Steve and David's help, soon overcame their nerves. The children were all very enthusiastic and enjoyed handling the equipment, especially the Lee Enfield rifle and Bren gun. They were enlightened by Steve and David's expert responses to the many and varied questions.
During the course of the day, David and Steve also spoke to the parents and grandparents, people from the village and school governors. Two badged war veterans came as well and spoke to the children about their wartime experiences. At lunchtime everyone joined in a street party style meal, sitting at a long row of tables in the playground.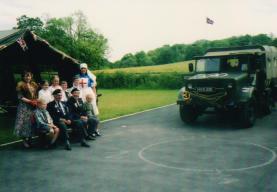 Many thanks to Steve and David for giving up their time to visit the school, and for sharing their wealth of knowledge with all the children. an excellent time was had by all.
Earby
Earby is located in the East of Lancashire, towards the Yorkshire border. Dave McCoull sent a report on this. The village held a VE celebration day that Dave McCoull with his REO, Chris Sutcliffe with his Hotchkiss jeep, Pete Morgan with his Willys Jeep, and Andy Overall Canadian Jeep attended. It was a red hot day, with a good turn out from the village. When they arrived they were given vouchers for food which could be used all day. The organisers were over the moon and asked them back next year. On the weekend of the 25th/26th June the same team went to Broughton Game Fair just outside Skipton. Dave did not have much to report, just to say it was a static show, but they got in free for taking vehcles. Below is Dave's REO at Earby, scanned from the local paper.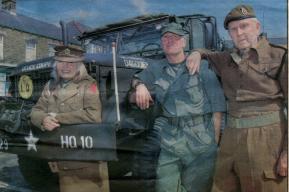 Harperley
Harperley is an old prisoner of war camp in County Durham. It is home to a museum based in the old camp huts. On 11th - 12th June a weekend Military Vehicle Show and 40s dance was held. A few of our members went and sent the picture below of Simon and Philip's encampment there.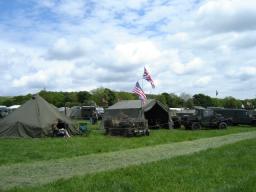 Hornby Castle VE Event
We returned to Hornby Castle this year after our group helped run a successful event last year that raised a reasonable amount of funds for Hornby Institute Village Hall. This year the village combined its 5 yearly festival with our vehicle gathering that attracted a good number of vehicles. The setting is perfect with a tree lined field and a castle as a backdrop for our sole use, and a marquee and other festival activities in the next field. The usual crowd from our MVT group and the neighbouring groups turned up to enjoy an ENSA show on the Friday night and a 40s swing band and hog roast on the Saturday night. Saturday night festivities were closed off with a firework display in front of the castle. Two road runs, one on Saturday and one on Sunday, enabled us to show off our vehicles to Hornby, Wray and Wennington villages.
I am exercising editorial rights over a picture taken of me putting up a tent. Christine McGuire took a picture of my "builders bum" while bent over knocking a tent peg into the ground, threatening to put it on the website. Well, if I had a copy of the photo I would exercise those rights!
A flyover by a Dakota from the Battle of Britain flight was a surprise part way through Saturday.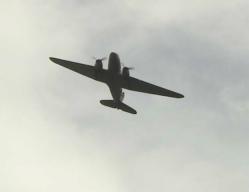 The weather held out for most of the weekend with Friday evening seeing a little rain. Some though came prepared for anything and smoked out anyone nearby with their cunningly constructed heater, made out of an old propane gas cylinder and a length of tube. It is apparently very effective.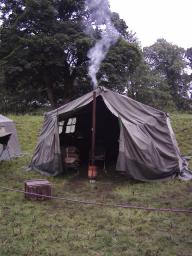 New member Steve Tyson brought his Leyland Hippo and Bofors gun. He had to leave the gun on the roadway as access to the field was a bit limited. The gun looks to be in very good condition with a very smooth and easy action to raise and swing the barrel. Another addition to the "fleet" is a Bedford QL that has just finished restoration by one of "The Brothers". It had a few problems getting to the event, but it was coaxed along and problems resolved once on the field. Pete Cartner from the North West Area visited and also had problems with his Jeep when a cable from his battery snapped on the motorway exit. This was quickly clamped back on and he made it to the event.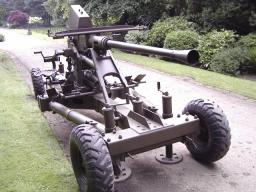 Thanks to John Le Page and Barry Marshall for coordinating with the Village Association in the production of this event.
A late addition to this report has arrived in the shape of a photo of part of our group taken by a press photographer. It is a rarity as it actually shows me at one of the events on the other side of the lens.