Events (2005) pt 1
Burtonwood Heritage Centre
A first run of the year was organised for 2nd January to the ex USAAF base at Burtonwood near Warrington. About 15 vehicles turned out for this run in the cold of a UK January. Most of us met at Bamber Bridge and as we drove to Burtonwood, we collected other vehicles on the way. Despite having a convoy leader, we did lose the lead vehicles as we closed in on Burtonwood due to being caught by red traffic lights. A helpful civvy soon had us pointed in the right direction.
We were welcomed with a cup of tea/coffee and slice of cake, followed by a 5-10 minute talk on the use of the airbase over the last 60-70 years. Unfortunately it is due to close later in January 2005 as the land has been bought for private development. The museum will continue however at the Gulliver's World theme park, where the owners plan a WW2 themed section of which the museum will form a part. It is hoped to be ready in 2007.
Crank up meet 24th - 28th March
9 vehicles turned up at the Leeds Children's Home in Silverdale for crank up weekend over the Easter period. The early birds arrived on Thursday and stayed until Monday. Others came and went throughout the weekend. Rupert gave his newly acquired Dodge Weapons Carrier an airing, whereas Bob gave his new generator and electric blanket a try out. Some people just cannot hack the cold weather! Tim's Chevrolet has been tweaked since our wind-down meet in September, to cure a few niggling problems. A car boot sale was held on the site on Saturday, so Sandra and Christine added their stall to the meet an managed to sell a few items. After my problems at Rawcliffe Hall at the end of last year, Geoff let me borrow his Dodge Ambulance again, and it ran perfectly.
Farmer Parr's Vintage Festival, Fleetwood 26th - 27th March
On the same weekend as the Crank-up meeting, a regular Easter vintage festival was held at Farmer Parr's in Fleetwood. A full report and photos have been provided by Steve.
"Easter weekend, and Farmer Parrís Animal World again opened its gates to Steve and Susannah, Dave and Joanne with children and dog, and Simon, who was making his first visit to the venue. This is also the Country Life Museumís ĎCrank-upí, with all sorts of displays and attractions. The weather was very kind to us for most of the weekend; just a minor blip in the form of a downpour late on Sunday afternoon. Good Friday was spent setting up our extensive display of WW2 and post-war memorabilia. Both Dave and Simon have invested in 12 X 12 tents so the displays can be seen to full advantage.
Saturday dawned fine and sunny, although there was a cool breeze blowing. It didnít seem to deter the public, though, and we had a steady stream of visitors throughout the day. During the morning Julian Mineur, the Events Consultant for Blackpool Councilís VE/VJ celebration programme, arrived with a photographer to take pictures of our display and vehicles to use in promoting the Blackpool event.
The Country Life Museum and Heritage Centre is also located at Farmer Parrís, and is well worth a visit in its own right. There are many events taking place to make money for the centre for autistic children, which is the main aim of Farmer Parrís. Also, none other than Syd Little (of Little & Large fame), helps out voluntarily and played a blinding gig on Sunday night for only £3.00 per head, including a hot-pot supper, the proceeds of which went to the Autism fund. If anyone wants to find out more go to www.farmerparrs.com. Also, James Parr has said that any of our group are welcome, with their vehicles, kit and militaria any weekend. Anyone interested, please contact Steve or Susannah via phone or email."
Deserving a special mention and photo is Simon's new vehicle!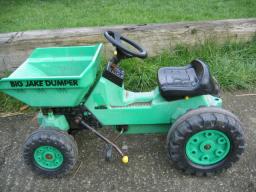 Highfield School, Blackpool
The organiser of the Blackpool Remembers event in July is also organising many events throughout the year involving schools, libraries, and the like, to publicise the 60th anniversary of the end of the 2nd World War. Highfield High School in Blackpool had interviewed a few wartime veterans about their experiences and submitted the information to the BBC website. In response the BBC wanted to recreate the interviews and asked for some wartime military vehicles to act as backdrops. As a result, Julian Mineur of the Ex-Serviceman's Liaison Committee arranged with Steve Barton-Rossall and myself for three vehicles from our group to attend. In addition, MVT Greensheet editor Simon Johnson brought his Jeep as he was also the BBC cameraman assigned the job of filming the interviews. Photographs were taken by the school, the veterans interviewed again, and then the veterans and the school children spent ages looking over the vehicles. Finally The Evening Gazette, Blackpool's local paper, sent a photographer to take pictures.
The school photographs should be available on www.highfield.blackpool.sch.uk. The BBC report is to be shown on Monday 2/5/05 on Look North West at about 5:40. The Gazette report appeared in the paper on Friday 29/4/05.