Events (2004) pt 5
Heysham
Heysham provided a one day festival that was attended by Dave, Tim, Bob, John and Barry. The organisers chose a good day for the festival as can be seen by the blue sky in the photographs.
Embsay & Bolton Abbey Railway
This was a new event to us, and one that, while it was no surprise, we found to be more suited to the "re-enactors" who dress in the 40s civilian and military style. Our vehicles however did add another element to the displays that attracted a very healthy crowd. The organisers did give us passes to use on the trains, and a number of us actually managed a ride on the footplate of the steam engines. We set up camp in a nearby field with four military tents and some of the vehicles parked close by that the visitors could look down on.
Saturday evening we were transported by coach from Embsay to Bolton Abbey for the dance. I must apologise to the ladies who were with us as I was sure the coach was at 19:30, but when we saw it about to set off at 19:00, lippy had to be applied double quick, and I had to throw my uniform on fastening my tie on the way there. Thanks to the coach driver for waiting for us. Entertainment at the dance was a swing band and the inevitable Paul Harper who also entertained us with his singing and Ukulele on the two stations during the day.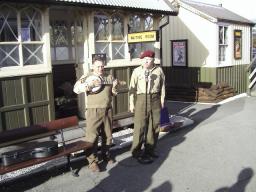 Wind down 2004
A weekend away at Rawcliffe Hall saw the virtual close to our season of events. I was pleased to see quite a few vehicles turn up either to stay or just visiting. It made the event worthwhile. The weather was not brilliant with intermittent rain, but being able to use the club house made the evenings more comfortable. It must be said though that Ian's thrusting motions during his performances in the Karaoke were enough to put anyone off their beer. Tim brought along his newly restored Chevrolet (see pictures on Vehicles pt3 page), and we were glad to see some of our newer members and their vehicles (Mack, Jeep, and GMC - see photos on Vehicle page). As the weather was getting cooler some of us wimped out of using tents and used a caravan and trailer tent to keep warmer.
Pickering
15-17th October. About 7-8 of our group turned up at Pickering either for the full weekend or just for a day visit. The journey there took longer than expected mainly due to being caught in rush hour traffic on the Friday. The evening dances were reported to be very good, but finding a pub during the day that was entering into the spirit proved difficult, but not impossible. The use of Pickering's main street as a gathering point did not work as well as other venues such as Haworth. Mixing Boots the Chemist with 40's military outfits clashed. Fortunately the turn out overall was good with plenty of effort put into the organisation. The camp site used by some of the group proved an excellent choice being opposite one of the dance halls. Overall an enjoyable weekend, but a long way to travel.
Despite the report, the picture below shows how busy Pickering itself actually was on the weekend.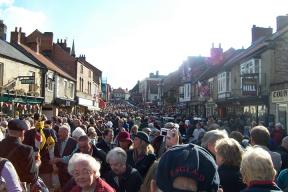 Poppy collection
Four stalwarts of the group turned up at Booths in Longton on Saturday 6th November to help with the collection for the Royal British Legion. The Air Cadets failed to turn up so it was left to the 3 Daves, Barry, and Steven to help with the collection. Vehicles providing the backdrop were a GMC Deuce and a half, a REO, a Bedford water tanker and a Jeep. At the end of the day "Tanker" Dave took the collecting tins back to Lostock Hall RBL. I hope to be able to publish how much was collected as soon as I know.
The second collection session was on Saturday 13th November at B&Q at Bamber Bridge, where a good turn out of members helped collect more for the Royal British Legion.
The following day, there were two events to attract any vehicle stalwarts willing to brave the cold. Hamilton House in St Michaels held an autojumble while Churchtown village hall (a mile or so down the road) held a small steam rally. Members of our group attended both events with vehicles parked up on display at both venues. Churchtown held a memorial service that our vehicles were part of, and "Tanker" Dave laid a wreath on our behalf.
On the way home from the events, a number of our group decided to pay a visit to what may be our new meeting place, The New Holly on the A6 near Galgate. While they have sampled the hospitality of the place, the rest of us will have to wait until our December meeting.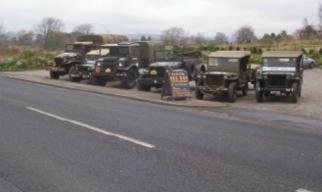 Inskip Militia Dance
26th November saw the second Inskip Militia Dance. The dance was well attended with music provided by Hepcat Mike. The majority of people attended in 40s outfits with a mix of military and civilian. A raffle was held with a first prize of a mountain bike, donated by a local cycle shop, plus many other prizes. Food, as last year, was a meat and potato pie. There were still some pies left towards the end of the night, so accompanied by chants of "Who ate all the pies", Tim brought another couple of pies for me and himself. This winter I must lay off such food otherwise I will not be able to fit my uniform next year. I have been promised some photos will follow.
Christmas run and lunch
Despite the cold and slight rain, about 35 of our group and West Lancs (members and partners/wives/daughters) gathered at Rawcliffe Hall for a Christmas run, ending up at the Fishwick Golf club for lunch. We were a little late setting off as Richard's Mack had decided to shake a primer loose on the diesel pump causing the engine to cut out. Once it was found and tightened up, he was on his way again. We were sure he was coming so waited patiently. We set off in convoy through Singleton and past the Weeton Army barracks, stopping at HMS Inskip for photographs. It always strikes me as odd that an inland Naval base is still called HMS (Her Majesty's Ship), but I am sure there is a historical reason for this.
We stopped at Jon Newbould's Gran's for a comfort stop, much appreciated by a couple of the ladies, and then pushed on for Preston and the golf club. The meal was superb, and the hospitality of the club appreciated. Thanks to Dave Salisbury for making the arrangements and planning the route.