Events (2004) pt 4
War Wheels Oswestry
Due to the cancellation of Sawley on the weekend of 21-22 August due to rain, a couple of our group were at a bit of a loose end, so Barry and Dave decided to check out an event organised by the Shropshire and Border Counties Area MVT, in Oswestry, Shropshire. See their website for details (www.mvtshropshire.co.uk). Dave provided the following report.
"We left at 6-00 am Sat morning and arrived on site at 8-20 having stopped for breakfast on the way. We went down in my jeep and trailer. The only other member of our group was Russell with his mate. They came down Friday in Russ's Jeep which took over 5 hours with the amount traffic on the motorway.
They put a free band and disco on in the bar on Sat night.
I drove the Jeep round the arena on the Sunday afternoon. Did not win again. Managed to buy a few things 30 cal box for Jeff, a socket for Tim's Command car, a first aid kit for Martins Gaz and a 2 quid 50 cal ammo box for me. Barry and I said that next year we will be down again as we thought it was a great show considering we were going to Sawley till the last minute when it was called off."
The photos above show Dave's Jeep alongside a Pink Panther Land Rover with Dave in his trademark Cavalry hat, and taking part in the parade.
One to look out for next year, and when I have details I will add them to our Future event page.
Shipley
What happens when you mix Detroit's best military metal with Milwaukee's best two wheeled metal? The answer is Harley Davidson Owners club Shipley 2004. We were invited to attend this year's Shipley 2004 event, so five of our finest vehicles attended including 2 Dodges, a Jeep, a GMC2.5 tonner and a REO spent time displayed alongside the hundreds of Harley Davidsons that turned up. The mix of music caused some concern with 40s swing during the day from our enclosure (which did not always meet with full approval), and various live rock bands and a rock DJ during the evenings.
We had a guest appearance in our enclosure of a 1976 H-D, converted in Japan to US military markings. The H-D owner was attending the event, saw our display of vehicles and parked next to us.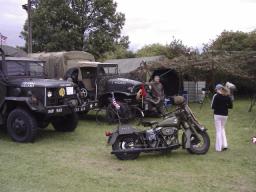 We were able to help out on the Sunday when the H-Ds went on a road run to a Steam Rally just outside Leeds where they hand over toys and teddys to a local children's hospital. We followed up in Bob's GMC and were on hand to provide assistance collecting and carrying all the gifts off site. It's good to see two such organisations helping charitable causes.
Due to the interest shown in our vehicles, not least from within the biker community, we have already been invited back next year. The only downside to the weekend was the "deposit" someone left on Tim's Dodge's tow hitch. An episode I am sure most of the bikers and ourselves would want to distance ourselves from.
Barrowford
Dave visited Shipley with his REO on the Saturday only as he had promised to go to Barrowford on the Sunday as it is local for him. Dave reports that the event was a bit of a wash out, however the highlight of the day was the Fire Brigade ran a LandRover into the river to demonstrate their portable pump. When they'd finished, the LandRover was stuck. A friend of Dave's had his Alvis Stalwart there, so he drove into the river to pull the LandRover out. When half way out the Stally started to spin and slid sideways down the bank, almost overturning. They then had to put a winch cable from a Mack truck over the Stally to stop it going over whilst it was driven back into the river. After numerous attempts the Stally had to be given a "snatch" by a four wheel drive tractor to get out, very embarrassing!. Vehicles there were Dave's REO, Hotchkiss M201, Willys MB, Canadian jeep, 2x Stalwarts, Bedford truck, a "Jimmy", and a Mack truck which won first prize.
Morecambe (Poulton-le-Sands)
This event had been dogged by rumour and counter rumour for the last 12 months, culminating in word that the show had been cancelled. A check on the supporting web site confirmed that all was well (well done Marie for the many updates that kept us informed about what was going on, and directions to the event). So on Friday 10th September, with this information to hand, 8 from our group decided to give it a try and stay over, although the wind and rain eventually drove Dave and his Reo to leave for warmer pastures at home. A number of other members came for day trips with their vehicles as it was a local event to them. A number of other vehicles and their owners joined us on the camp site for the weekend. With a little bit of persuasion we managed to get Bob's Jimmy on the sports field at Trimpell, otherwise the heavier vehicles and their owners had to camp near the town hall, a short distance away (one of the few things to improve on next year).
Two dances were organised, one on the Friday and one on the Saturday, both of which I would judge to have been sellouts. I have to admit to being surprised during the Friday night dance when a pretty blonde came to talk to me, but was even more surprised when she asked me whether I was a Morris Dancer. Remind me to get some bells on my boots for next year. I understand she was the daughter of one of the organisers (keep her in check Mr Tyson!). On Saturday vehicles were parked in Poulton on display where a NAAFI had been set up, together with a display of militaria. Later in the day, the re-enactors entertained a massive crowd on the sea front with German troops defending and losing their position to the Americans. Excellent pyrotechnics, and the presence of a German half track (Czech actually but who is counting?). At the end of the re-enactment, the heavens opened and dispersed the crowd from the promenade quicker than any planned dispersal ever could. We were able to drive off the promenade with ease.
The Veterans parade on Sunday was joined by many vehicles that drove along the seafront then turned onto the pedestrian promenade to drive to the cenotaph for speeches of thanks to the veterans.
This was a good start to what could be a regular event, even though the weather put a damper on events (the Battle of Britain flight could not fly because of it, and a number of vehicles got stuck in traffic due to an accident on the motorway probably caused by it).
Fairhaven Lake
12th September saw the regular gathering at Fairhaven Lake in St Annes, Lancs. This event is organised as a display of classic vehicles of all types. Steve and Susannah set up their display and won a rosette for their trouble.